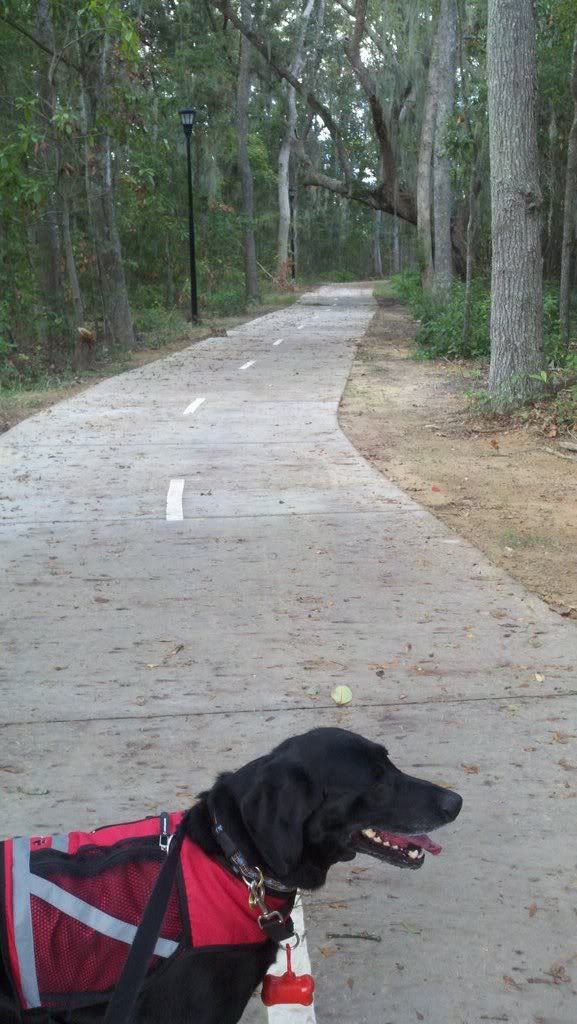 Tired, happy dog. He's actually facing a fence that separates the path from a nearby road
I took Ebon down to my college campus today to check out the new bike path that was added over the summer. It's really quite beautiful, as you can see above. Numerous live oaks are growing by the path, dripping with Spanish moss and at regular intervals sit lamps to light the way at night. I really thought the live oak that's arching over the path was particularly striking. It's rather peaceful, despite the noise of the road.
Ebon had a blast and came home tired. I'm trying to find good places to take him for a nice walk or run now that we're living in the city, and I think I'll be coming back to this little bike path. There are plans to extend it, so maybe by this time next year it will be twice as long. I'm also getting him used to his reflective vest for safety reasons. Since he's so dark, I want cars to be able to see him if we're going out at night. He really seems to like it since it resembles his backpack in shape and that always means we're going on an adventure. He got very excited when I pulled it out. It was really humid today, over ninety degrees. I think neither of us can really wait for Autumn weather to come. Walking is far more pleasant when you're not swatting mosquitoes every few moments.