Once again I went to another new park! I'm working on visiting basically every single one locally that allows dogs. Today myself, Ebon, and the significant other went to a state park. It's the only state park that is feasible to visit on a regular basis (all of the other are about an hour away, while this one is only fifteen minutes or so). This, I think may be my favorite so far. Some of these pictures look a bit like the
park that was once a rice farm
that I last spoke about, but in fact the two are over thirty miles apart. This is the first park or recreation area I've spoken of that requires a fee to access (namely a $5 parking fee), so that's a small downside. However, the park is beautiful, had a trail with the potential for quite a significant hike (five different rail loops and numerous spurs totaling about five miles or so, so at least ten if you double back at the end). I will definitely be going back. We spent about two hours there, going about five or six miles (two complete trail loops, and a spur out to the observation tower) at a leisurely pace. I managed to get a blister thanks to wearing my not-so-broken in hiking boots instead of my comfy sneakers. Oh, well. Now, on to a whole bunch of pictures!
Ebon on a bench built into the wooden marsh walk near the beginning of the trail when entering at the park's visitors center. I actually injured myself at this exact spot during my undergrad, so it's permanently seared into my memory. Unlike the majority of these trips, it was completely cloudless. The temperature was just cool enough to make a jacket comfortable. No bugs were out, which is a miracle sometimes, it seems.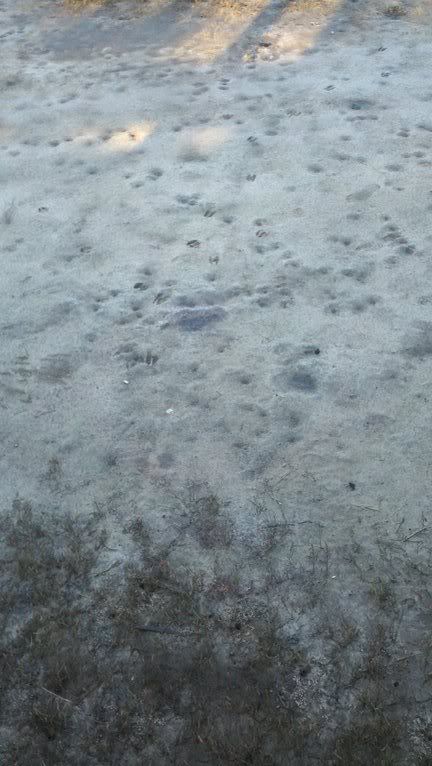 If you look closely you'll see deer tracks. This is an area of the marsh only sometimes inundated by water.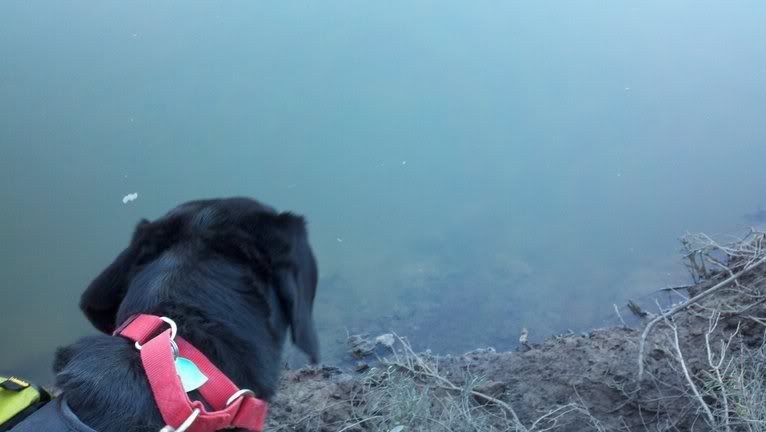 Near the area seen above, Ebon checking out the brackish water of the marsh. At this point, it was high tide.
In front of one of the many benches along the trail.
A set of benches where we stopped for some water. One of the loops starts just across that bridge.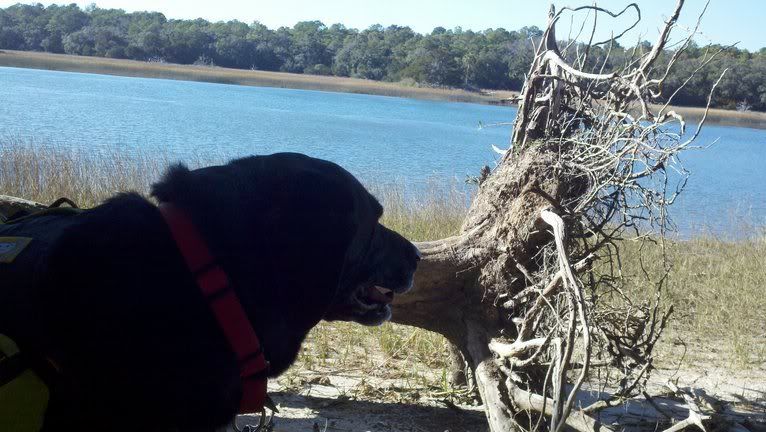 A fallen tree in front of one of the local rivers. There's another bench right next to this spot.
A lovely shot of the woods. Most of the trail actually cuts through the woods, and you pass by picnic areas, outhouses, shelters, and other facilities along the way. After this I had to readjust straps and redistribute the weight in the pack because it was drooping badly to one side. It's only our second outing with it, so practice will get the fit right.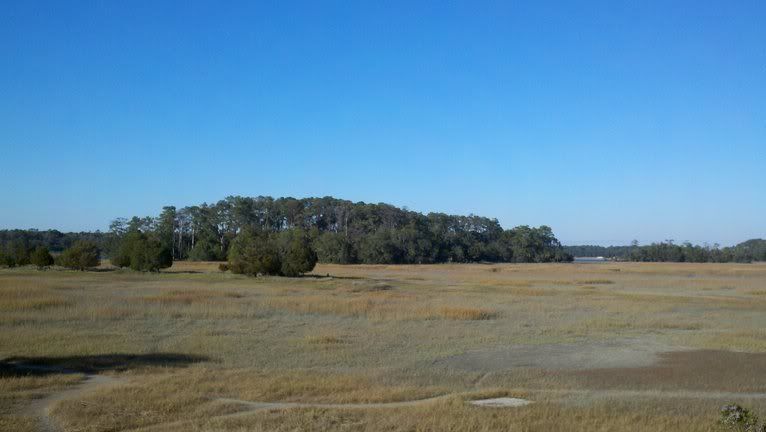 A view from the observation platform. Some houses can be seen far in the distance. It's a great place for birding, and there's also a picnic table. There were stairs up to this level. Ebon used to be afraid of stairs, and I'm so proud of him for having no issues with them anymore. He happily charged up and down them with no hesitation.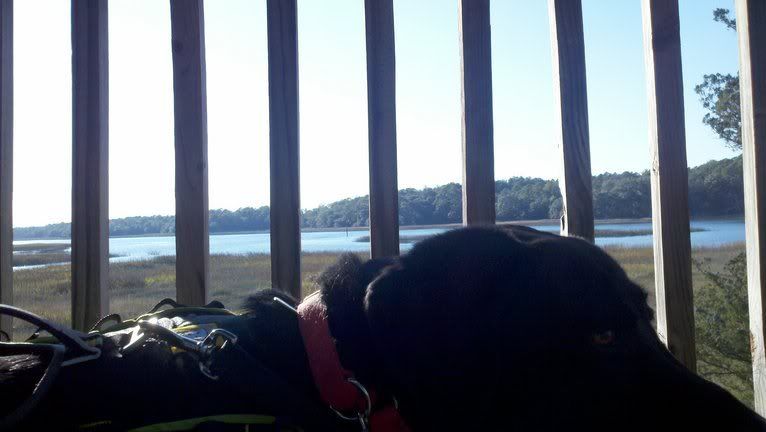 More from the platform, this time the river in the distance from Ebon's point of view. I'm amused by how many pictures are of him facing to the right. I think it's because he walks to me left and it's the easiest way to look back at me when I step away, ask him to wait, and then take a picture.
Ebon begging for water. He likes to drink it out of a squeeze bottle and I was opening it at this point.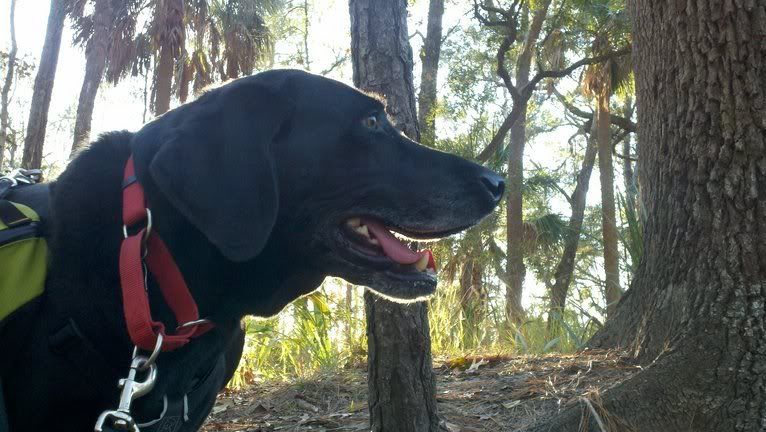 Ebon standing on an embankment near the end. Apparently, this man-made earthen wall was involved in the civil war. Its' been there so long that trees too large for me to wrap my arms around have grown from it. Amazing stuff! It's the closest thing there is around here to a hill.
We actually met nine different dogs on this trail! I rarely see so many, so it was quite interesting. Here's the list: one yellow Labradoodle, one sable Shetland sheepdog, one merle (black and tan dapple) miniature dachshund, one white and black extreme piebald Pomeranian, two English cocker spaniels (one roan and one ticked, both piebald black and white), one tricolor fifteen inch beagle, and two rat terrier mixes I think? (both ticked piebald black and white underneath). No pictures, I was too busy reminding Ebon of his manners. He was quite excited to say hello to the Labradoodle, but the smaller dogs he mostly ignored other than to politely sniff them. Quite interesting.
Last but not least, I got a really good shot of one of Ebon's rusty legs (specifically his left forepaw). This is what they look like in bright sunlight. Inside with lower light, there's only a hint of red visible. I think I'm a bit too fascinated by my dog's feet.