Ebon was born seven years ago today. He has been my loyal dog for six years and seven months of that, as I brought him home on his five month birthday. My how time flies! Here's a little photo diary of the past few years. Unfortunately, I don't have any photos of him from before five months of age. However, I still remember the tiny creature he was when I first met him at two weeks old. It's amazing how much he has changed. It's been quite an adventure, and I hope to have at least another seven years ahead with my wonderful fella.
Ebon at five months old, the day I brought him home.
Ten months old. One of my favorite pictures of him.
Twenty months old, along with his mother. Here she's about the age he is now. She's still going strong!
Three years old, shortly before he began going gray.
On his fifth birthday, politely begging for his birthday treat.
For his birthday, Ebon also got to have fun and eat good things. We went back to my campus and did a large circuit, which took about two hours. He had a blast, even taking a little dip in the pond. There actually aren't any leash rules on certain parts of campus, so I also spent a little time working with Ebon's off leash manners. Mostly this consisted of practicing recall near distractions, such as a busy road (with a fence between us and the road). He's very good at keeping to a loose heel while off lead, staying within ten feet of me in whatever direction while we walk around.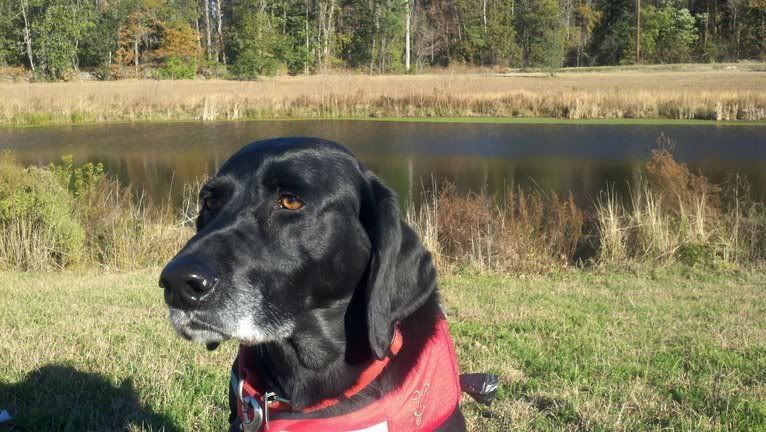 By the pond right at the beginning of the walk. It was a beautiful day. Notice the difference in the pond from before. It's been warm, so the duckweed has been flourishing.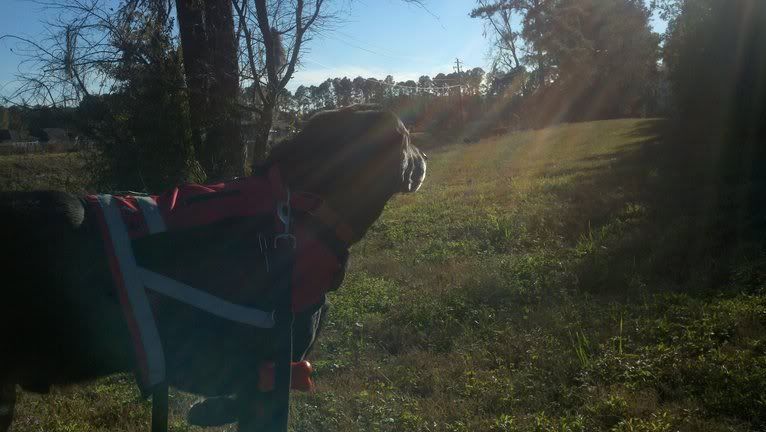 By the ditch. The path ahead and to the right leads behind the campus greenhouse.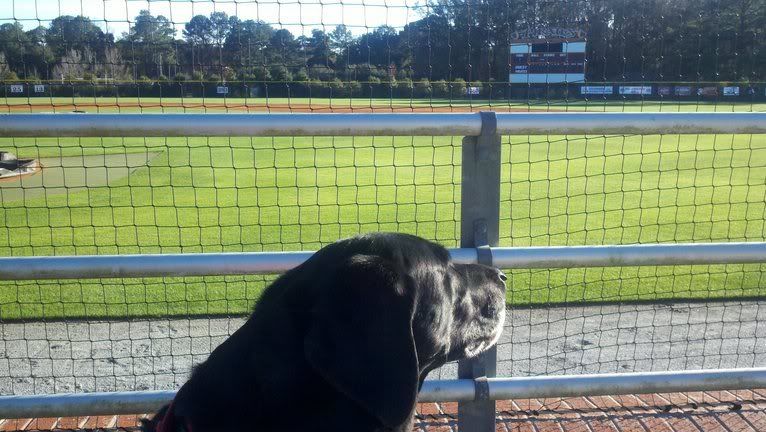 If viewed as a square with the pond as the first corner, this baseball field is at the second corner.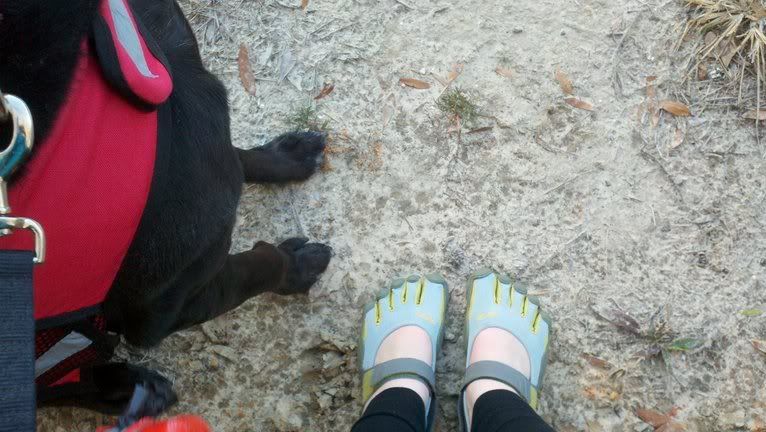 Feet on the campus trail. Not much else to say.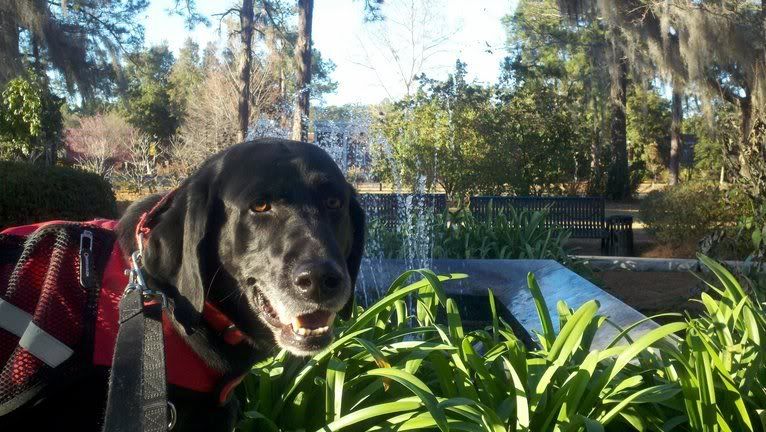 At the oldest of the three fountains on campus. This is about halfway along the last side of the square.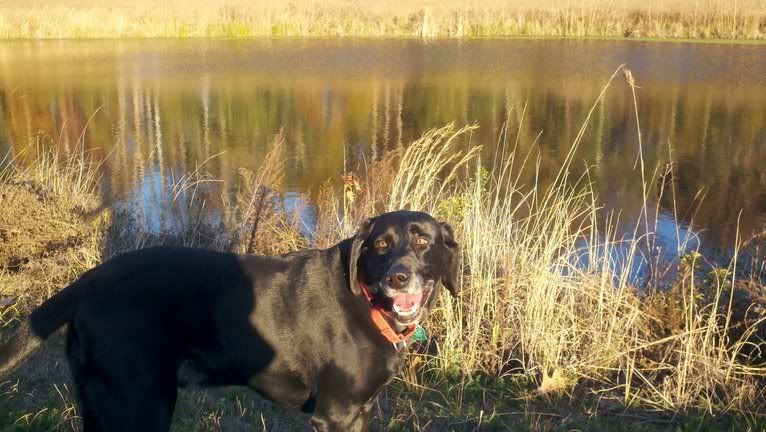 Back at the pond right before leaving, I took off the vest and let him off lead to see if he wanted to take a little swim. I think the water was a bit cold because he only waded.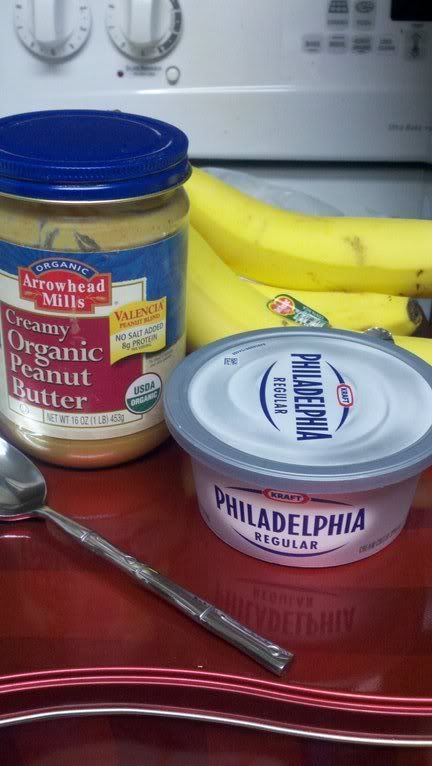 The ingredients.
As for the food, Ebon got a tooble (smoked beef trachea) as a snack and with his dinner he got a mixture of banana, peanut butter, and cream cheese added to his kibble, plus some freeze dried liver. I have actually gone to the lengths to bake him a cake before (using a doggie cook book), but this time I decided to go the simple route and mix him up something with a touch of sweetness that I knew he would like. By the way, two bananas, one small tub of cream cheese and a cup of peanut butter makes plenty for a dog and a few friends, or enough for several treats if you really want to spoil him or her. I did taste it, as I have a tendency to do with anything I hand make, and it just tastes like sweet peanut butter.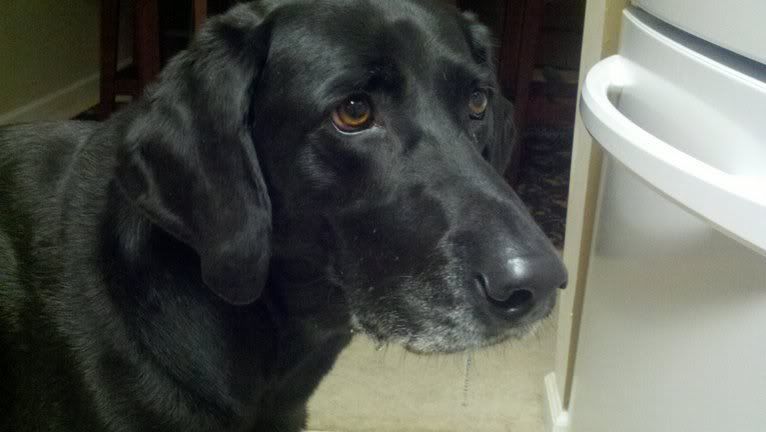 The drooling face of anticipation.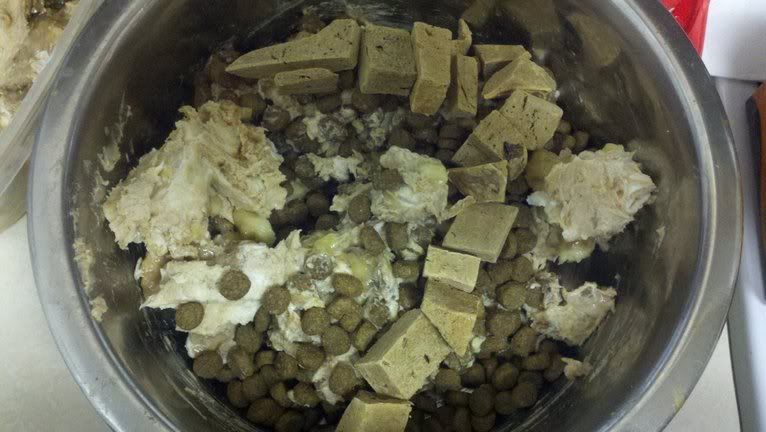 Ebon's birthday "cake." He licked every last morsel out of the bowl. He will be getting more tomorrow.