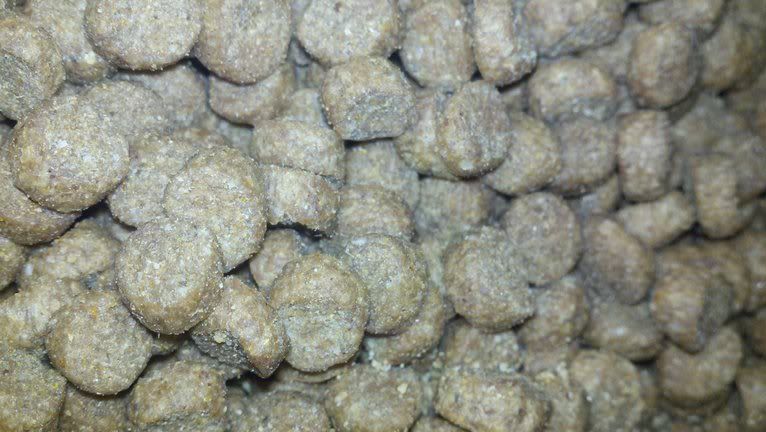 Ebon's current diet
One of the biggest claims that the major dry dog food manufacturers make is that their foods are beneficial to the dog's teeth. The crunch helps clean the teeth..we've all heard it before. However, that isn't really the case. Dogs in the United States tend to have rather bad teeth, and most dogs in the country are fed...you guessed it: kibble. On top of that, countless products are manufactured, and purchased, to fight tartar. If those claims that kibble promoted good teeth were true, why is the pet dental industry booming? Why do dogs continue to end up with
terrible tartar buildup
if an owner does not invest a great deal of money in chews, bones, tooth paste, and teeth cleanings? If those claims were true just feeding a dog a regular diet of kibble would produce nice, shiny white teeth. However, that isn't the case at all. Despite this, one of the first suggestions made when a dog has bad teeth is to feed them a certain kind of dry food.
As those of you who are regular readers already know, Ebon is a kibble-fed dog. He's seven now, and for his age his teeth are in fairly good shape for being on kibble. He has been on fairly high quality kibble for several years now, before which he was being fed Iams or Purina. He is currently eating
Simply Nourish
Lamb & Oatmeal
, and is doing even better than he did on Blue Buffalo. Simply Nourish is rated four out of five on
my favorite dog food analysis website
, where foods below a three out of five are considered to be of poor quality (
Iams Proactive Health
and
Purina One
are both two out of five). Despite the fact that Ebon gets daily chews to help keep his teeth clean, they still show fairly significant amounts of tartar. For one thing, he tends to only like to chew on one side of his mouth, so one side (his left) is always cleaner than the other (his right). I do brush his teeth, but I have increased my brushing schedule to try and get his teeth pearly white. He'll also be getting a teeth cleaning quite soon. Fighting tartar when your dog is on a kibble diet is definitely an uphill battle.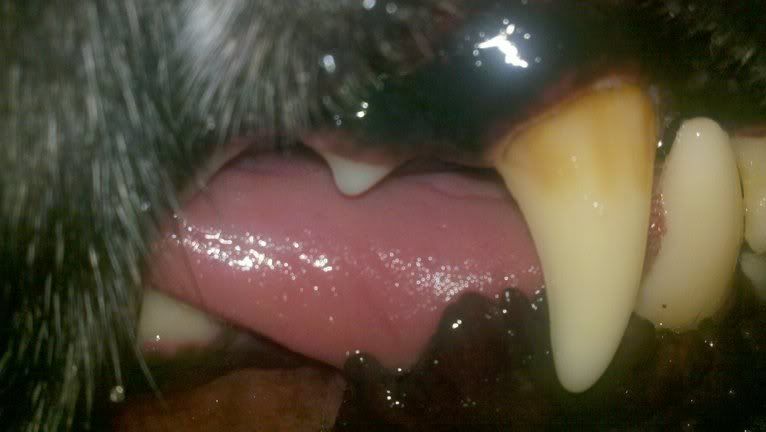 Right canine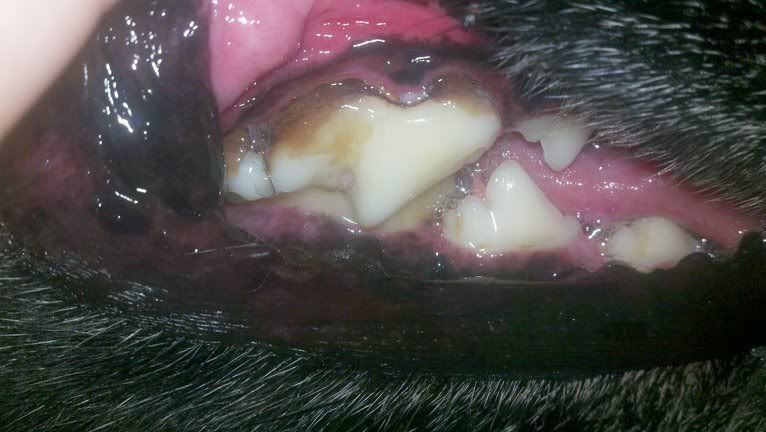 Right carnassials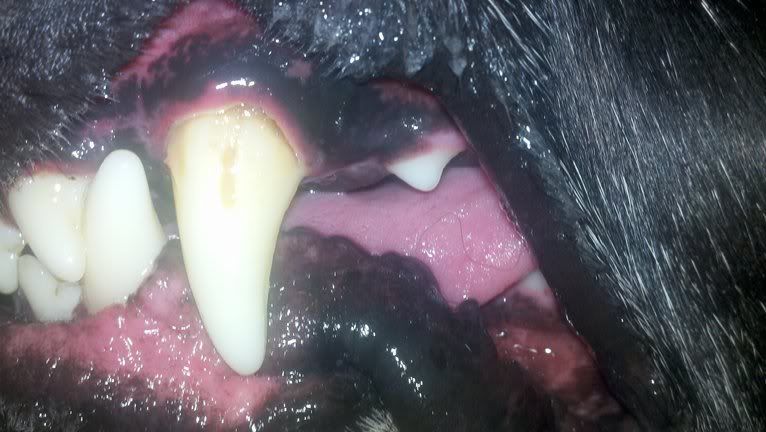 Left canine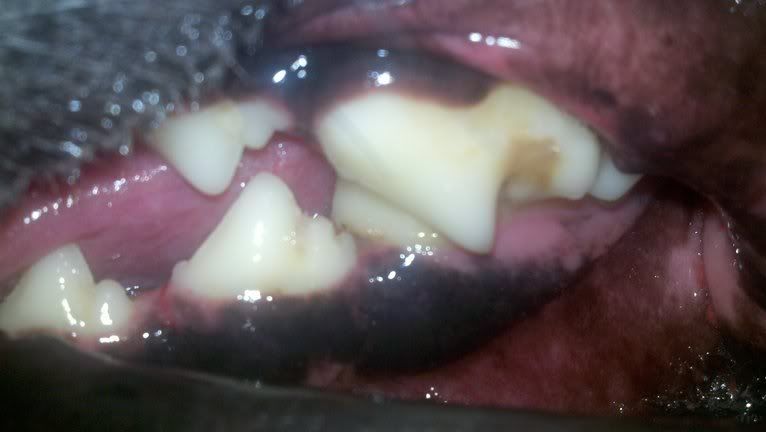 Left carnassials
As many of you probably already know,
tartar is caused by plaque
, that film of bacteria that naturally occurs in your mouth. Sugars feed that bacteria, and the more sugar you eat, the happier the bacteria is and the more likely that it will damage your teeth or gums. If plaque stays on the teeth for too long, it turns into hard tartar buildup. This is true for you, and for every other creature out there who has teeth. Kibble had sugar. For the most part it is complex sugar, however it is still is a food source for that bacteria. As such, dogs and other animals fed kibble are as much at risk for dental problems as we are. Like us, some animals will have better teeth than other naturally. However, it will take more than just chewing your food to prevent tartar, which is exactly what kibble manufacturers claim their product will do. You have to take steps to keep your dog's teeth healthy.
As those out there who feed raw already know: raw diets lead to
far cleaner teeth
than kibble. The foods are extremely low in sugars, especially when compared to dry foods. In addition,
bone is definitely known to clean teeth
. Unlike kibble, bone really is incredibly hard and will flake much of the tartar that may be on the teeth. It is true that bone may potentially cause other problems, but the risk is fairly minimal. Countless dogs are fed a proper raw diet today and
have no issues
. Countless dogs are also fed kibble with no issues, but those kibble-fed dogs have worse teeth than the raw fed.