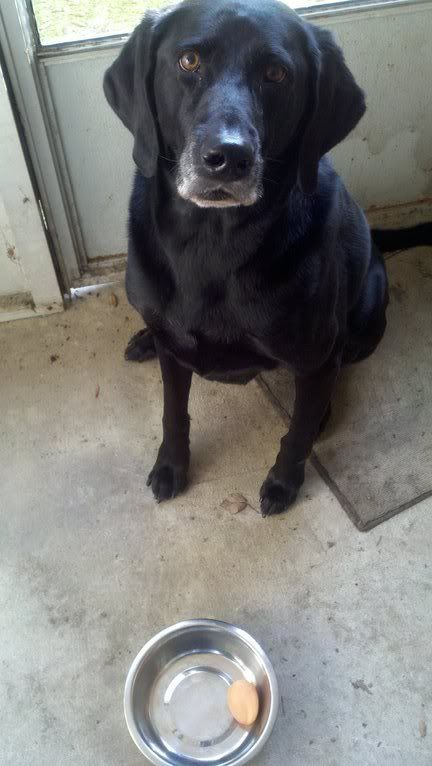 Confused puppy
I gave Ebon his first egg today. Raw egg, that is. We had an egg that cracked in the carton between the store and the house. It managed to stay in one piece, but my germ-wary side wouldn't let me eat it myself. So I froze it for a while, thawed it, and gave it to the dog. He was very confused about the whole thing. I'm glad I put him out on the porch because he did end up making a mess. He picked it up, then immediately dropped it onto the cement. He also didn't seem to get the "eat the whole thing" concept because he left the shell. Ah well, he still enjoyed himself.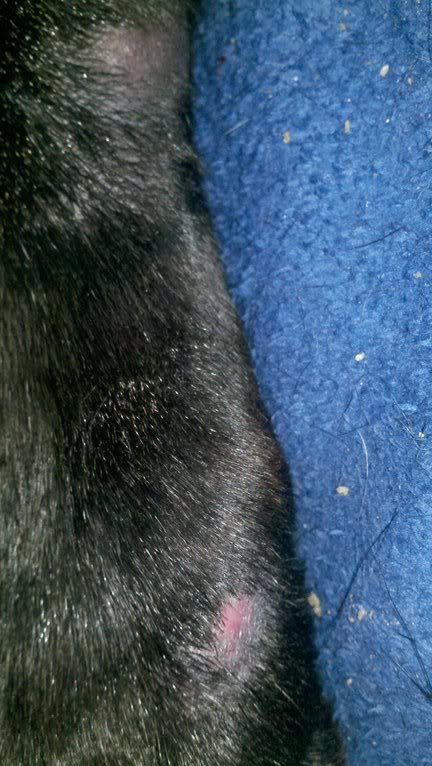 Ebon's leg
Ebon's completely back to his old self as well. His
leg
is looking brilliant, with nearly all of the pigment back to his skin. The last bit of scab came off a little while ago, which is where the last spot of pink is. The hair won't be completely back for a while, though. But that's okay. I'm just glad the wounds are healed. His socket is also completely filled in and toughened up. I've given him a few chews now and he's had no bleeding at all so I'm confident that his mouth is also completely healed. Tomorrow I plan on taking him back out on an adventure for the first time since he broke his tooth. I know he's going to be incredibly happy about that! During the trip I'll also be testing out his
modified pack
.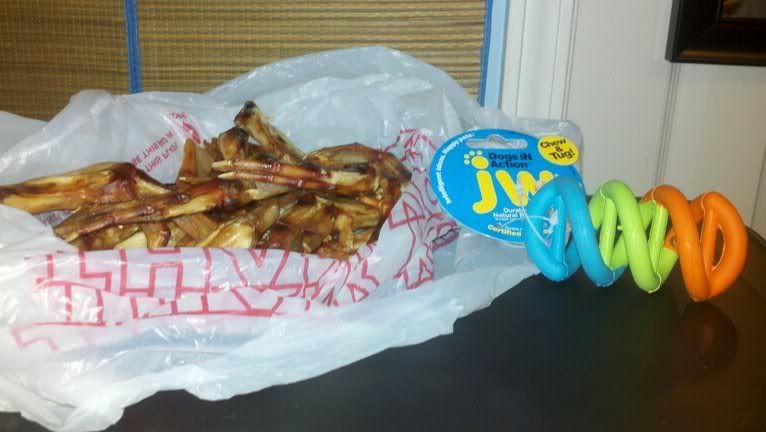 The contents of the package
Today Ebon also received a surprise package in the mail. It was actually address to "Mr. Ebon Esq." and contained some gifts from my brother's significant other. The address made me chuckle. This is coming from the same family that nicknamed Ebon "Denzel" for Denzel Washington. I was actually told to expect a package, but I didn't expect to find what I did when I opened it! Inside was a small
JW Dogs iN Action
tug toy and, even more surprising, dry roasted duck feet. I thought they were chicken feet at first, but then I realized the toes were webbed so I do believe they are duck. I don't know where they were purchased, but
Best Bully's
sells duck feet for $0.49 each (and the bulk prices are even better). I love the fact that they're a natural source of chondroitin, which is great for joints. Ebon went gaga for the one I gave him. These might just go on my list of favorites. The toy, unfortunately, is more than a bit too small for Ebon. However, Pippin, my brother's significant other's Parson Russel terrier, will be coming to visit sometime soon, and I'm sure he will enjoy it!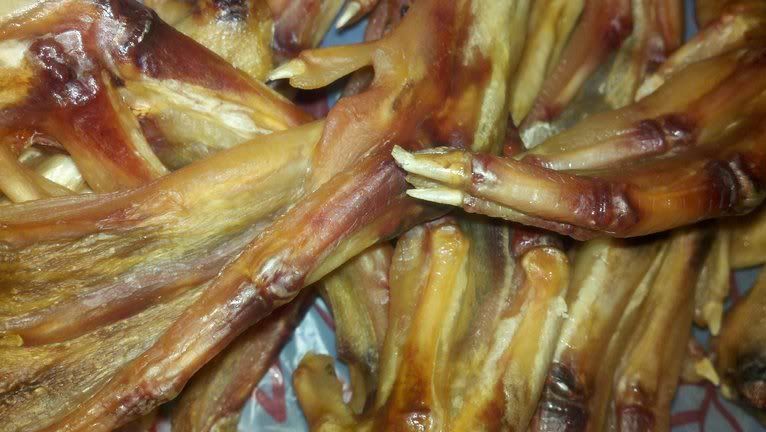 Some of the duck feet.