This is second of the dog food review series I'm doing.
Taste of the Wild Sierra Mountain Canine Formula
Dog Food Advisor rating:
★★★★★
This food is AAFCO approved for all life stages.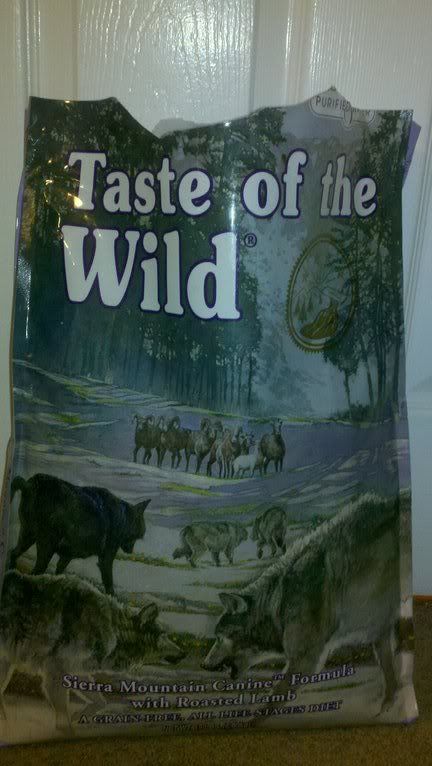 The bag
Ingredients:
Lamb, lamb meal
, sweet potatoes, potatoes, peas, canola oil,
pea protein
,
roasted lamb
, tomato pomace, natural flavor, salt, choline chloride, mixed tocopherols (a natural preservative and source of vitamin E), dried chicory root, taurine, tomatoes, blueberries, raspberries, yucca schidigera extract,
dried Enterococcus faecium fermentation product, dried Lactobacillus acidophilus fermentation product, dried Lactobacillus casei fermentation product, dried Lactobacillus plantarum fermentation product, dried Trichoderma longibrachiatum fermentation extract
, vitamin E supplement,
iron proteinate, zinc proteinate, copper proteinate
, ferrous sulfate, zinc sulfate, copper sulfate, potassium iodide, thiamine mononitrate (vitamin B1),
manganese proteinate
, manganous oxide, ascorbic acid, vitamin A supplement, biotin, niacin, calcium pantothenate, manganese sulfate, sodium selenite, pyridoxine hydrochloride (vitamin B6), vitamin B12 supplement, riboflavin (vitamin B2), vitamin D supplement, folic acid.
Items in italics will be discussed later.
Bag's recommended daily feeding instructions for an adult dog 80-100 lbs: 3 3/4 - 4 1/3 cups
Crude Protein: minimum of 25.0%
Crude Fat: minimum of 15.0%
Crude Fiber: maximum of 4.0%
Moisture: maximum of 10.0%
Calorie content: 338 kcal/cup, 3,661 kcal/kg
Calculated amount
to maintain Ebon's ideal weight (82.5 lbs): 4.93 cups or 0.46 kg (1.012 lbs)
Price per pound when buying the largest bag (30 lbs at
$46.99
): $1.566
Estimated cost of feeding Ebon per year on this food: $578.57 (12.31 of the 30 lb bags)
Ebon receives slightly less than the calculated feeding amount to allow for his daily treats
Ebon's overall health on this food: Rather good. Energy level moderate to high. Coat shiny, though he did have a slight increase in dandruff. Poop usually not as compact and not very consistent.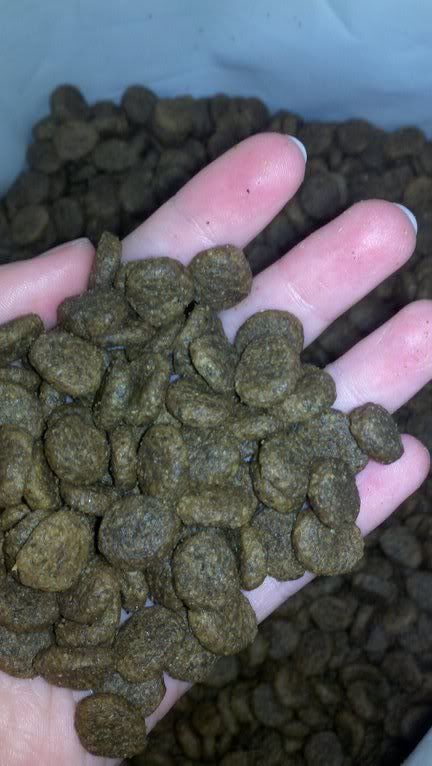 The kibble
I started transitioning from Ebon's old food on February 27th, and I just started transitioning him off of this food. The kibble itself is relatively large and flat. It has a moderately high meat content, as can be seen in the first several ingredients. Some ingredients are rather telling as, though this food boasts at being grain free and high quality, some ingredients seem a bit unusual. Inclusion of such things as pea protein will boost the protein content, even though a fair amount of the protein is still coming from animal sources. It does make me curious how much protein is coming from peas rather than lamb as vegetable proteins often lack a lot of the amino acids essential to good health and are also not as easily digested. Ebon did got excited at the smell of this food, which is likely thanks to the inclusion of roasted lamb in the mix.
Some nice things to see in this food: chelated minerals and probiotics. Chelated minerals are believed to be more easily absorbed and used by the body than non-chelated minerals, and probiotics/microorganisms help maintain good gut flora to provide for better digestion.
I was actually quite surprised at some of the changes that Ebon went through after starting this food, partly because I've heard quite a number of dog owners rant and rave about the brand. The fact that he pooped more wasn't surprising since he was getting a larger amount of food. Taste of the Wild is not as calorie dense as many other kibbles, and the fact that Ebon would need nearly five cups a day to maintain his weight rather shocked me. The majority of foods I have looked at require servings for Ebon around or below four cups. His poop was really inconsistent, including his first problems with a food transition. When he first started this food his poop became very loose for several days before firming up to a better consistency. Even after that, he would have a random loose stool every third or fourth day. Since Ebon already has issues with stress-induced loose stools, the fact that this food caused him to have basically regularly loose stools was...disappointing. Especially after the complete lack of loose stools when he was on the last test food (
Nature's Variety Instinct
).
As for his coat and energy, Ebon's energy level didn't change at all and his coat did have somewhat more dandruff than before, making him a bit itchy. It may have to do with the amount and type of fat in the kibble, which doesn't seem to be keeping his skin as oily as it usually is. I cannot, however, say for sure what may have caused him to be more flaky. He has not yet received his monthly bath, which is usually the cause of any dandruff he has.
Overall, I was a bit disappointed with this food. I don't even know how many people have told me how wonderful Taste of the Wild is, but hearing something is not the same as seeing it for yourself. The changes were overall fairly minor and not that hard to deal with, but they were still frustrating. It's quite likely this may very well just be Ebon's reaction to the food and not a good reflection of dogs in general. I still don't think Ebon will be eating this food again. However, I would be curious to know how other dogs have responded to a switch to TotW.
Will I change foods? We'll see. More reviews are to come. Next up: Wellness.