I took another trip to one of the local pet boutiques today and picked up a few things I was curious about. I'm really starting to love this particular store, and it may end up being my go-to place for certain things, even though it's a bit farther than any other place to buy dog things locally. The owner is a very nice British woman who has an adorable dark buff American cocker spaniel.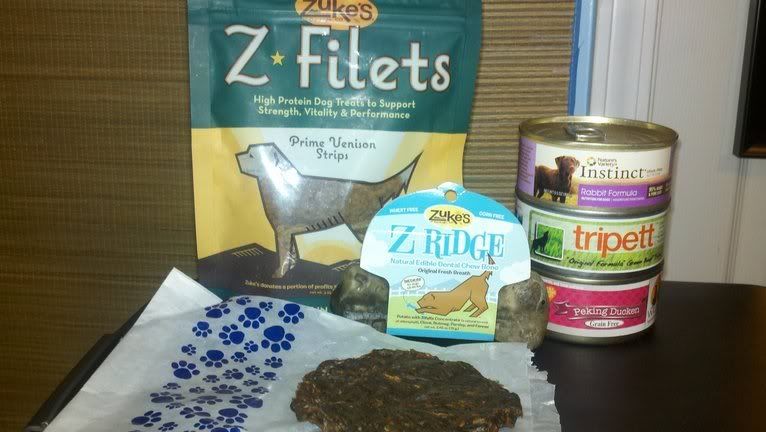 The purchases
As soon as I got home, I took the above picture, then gave Ebon the thing in front. It's a
Happy Howie's All Natural Doggie Burger
. The company also offers
sausages
,
woof stix and woof bites
,
doggie jerky
, and
meat rolls
. The burger treats come in two sizes: two inches and four inches diameters. According to the website, they also come in packages of twelve two inch burgers, two four inch burgers, and bulk boxes. Of course, I bought the four inch one. As you can see, these aren't sold in packages at the store I went to, but instead there's a bulk box that you pick them out of. This is part of the reason I gave it to him so quickly because, since there isn't an expiration date I can reference, I didn't want to put it somewhere and forget about it. They can be frozen, though. Anyway, here's the stats:
Ingredients
: Beef, Rice Flour, Garlic, Salt, Sodium Lactate, Sorbic Acid, Citric Acid, Natural Mixed Tocopherols (a natural preservative), Vegetable Oil, and Rosemary Extract.
Nutrition Facts
:
Crude Protein: minimum of 30.0%
Crude Fat: minimum of 11.0%
Crude Fiber: maximum of 1.0%
Moisture: maximum of 14.0%
The treat smells very meaty, and Ebon took note of it as soon as I walked in with the bag. It's also pretty easy to tear if you wish to break it into smaller pieces for a smaller dog, for training nibbles, or whatever. I like to known if a treat can be easily portioned out, and this one didn't take any wrestling, cutting, or anything of the sort. It was easy for Ebon to chew, even though he is still favoring his tooth extraction site a bit.
I find the slogan used on their website of "Soft enough for poodles, tough enough for labs" rather amusing because of how long it took Ebon to eat his burger: about three minutes. Of course, he is a big boy and has big teeth but I still wouldn't exactly call that tough. Overall, the treats seem to be good. I payed $1.59 for a four inch burger, which isn't too bad, especially if you tear it into smaller pieces. I would buy the burgers again, especially if I can buy a bulk box and freeze them for later. I might also go back and grab some of the other treats from this brand.
As for the others items in the picture, I'll be talking about them sometime soon. Of course, the chew won't be given to him for a little while yet.