During a
recent trip to a local pet boutique
I picked up some Zuke's products. I had never bought any before, so my curiosity had me buying the following items for a little test run.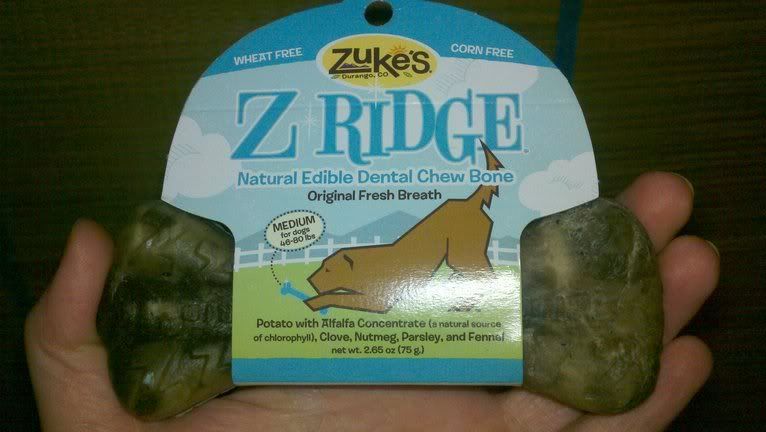 The Z-ridge in its packaging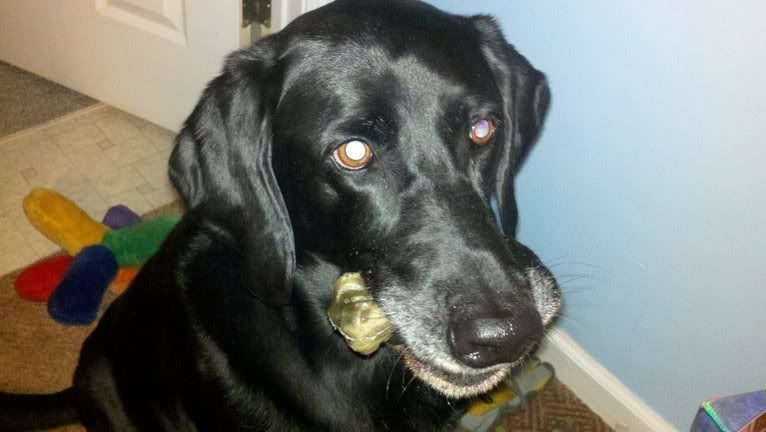 Ebon, ready to chow down on the chew
Unfortunately, it seems that this product has been discontinued by the company and I was silly enough to throw out the packaging before writing down certain important stats. It proved to be a bit difficult to find that information. I'm referencing
outside
websites
, so the following information may be a bit off.
Ingredients
: Potato starch, vegetable glycerin, cellulose fiber, alfalfa concentrate (source of chlorophyll), natural flavor, whey, lecithin, vanilla extract, clove powder, nutmeg powder, fennel seed powder, parsley.
Nutrition Facts
:
Crude Protein: minimum of 0.4%
Crude Fat: minimum of 1.0%
Crude Fiber: maximum of 6.0%
Moisture: maximum of 16.0%
Ebon was excited by the treat and happily chowed down as soon as I let him have it. It did seem to clean his teeth, getting rid of the remnants of his breakfast. Though the product is discontinued, it seems there are several vendors still selling them. If I can still find some, I'd be happy to buy some up, especially since it seems those that are still selling them have them on sale. I might try out the new Z-Bones soon.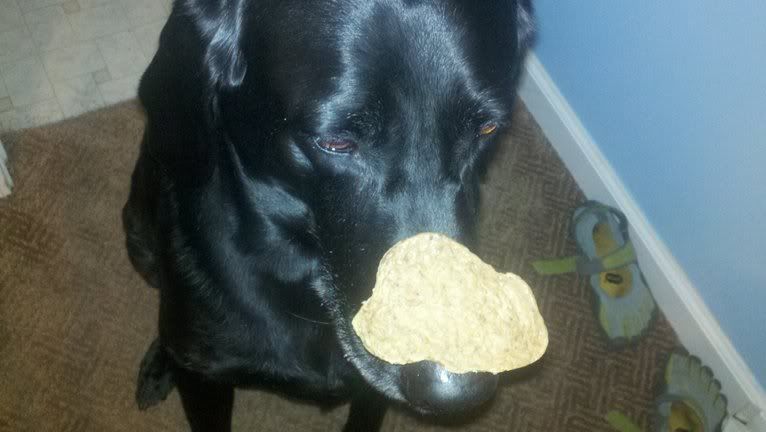 Me "torturing" Ebon by making him practice restraint after his excited spell.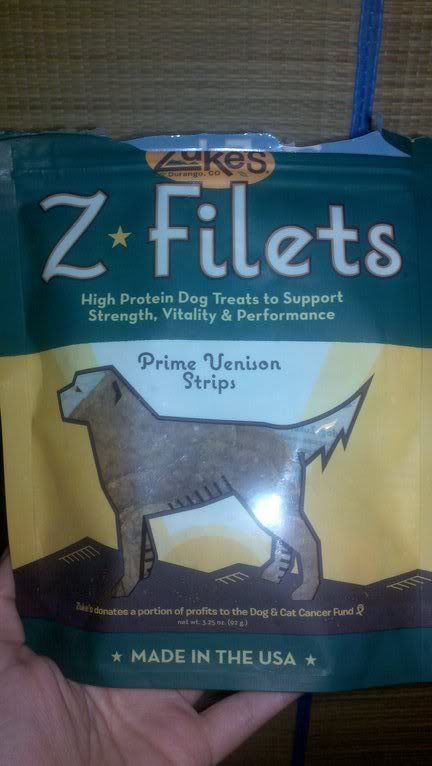 Prime Venison Z-filets
I purchased a package of the Prime venison formula.
Ingredients
: Venison, Rice Flour, Maple Syrup, Garlic Powder, Salt, Phosphoric Acid, Sorbic Acid (a preservative), Mixed Tocopherols.
Nutrition Facts
:
Crude Protein: minimum of 25.0%
Crude Fat: minimum of 5.0%
Crude Fiber: maximum of 3.0%
Moisture: maximum of 20.0%
These seem like very nice little treats. They smell quite meaty and made Ebon excited to try them. He even stood on his hind legs to get a better whiff after I opened the bag. Though I don't like it when he does this because he nearly comes up to my eye level, it's definitely a sign of serious excitement for him. One filet was a fairly good sized snack for the Ebon-ator and they are quite easily broken down if you have a smaller dog or want to use them for little nibbles. I picked up the Venison formula for these treats out of curiosity, and I may go back and try out the others as well.
Overall, Zukes produces some nice products. However, their prices per unit are higher than I would usually go for treats. One Z-ridge in size medium was $4.99 and the Z-filets were $6.99 for a less than four ounce package. If I do buy these again, I would much prefer to find them discounted. Since Ebon's such a big boy and usually gets one chew and one snack per day, "little" things like this really add up.