This woman has heterochromia,with one brown eye and one hazel eye.
Complete heterochromia
I introduced heterochromia recently by discussing its
presence in dogs
. Now, I will be going over it in a bit more detail, especially its existence in humans. Specifically, I speak of heterochromia iridis (also known as heterochromia iridum), which refers to the coloring of the iris of the eyes. Technically, heterochromia (or "different color") may refer to other parts of the body as well, such as hair, fur, or skin.
There are multiple ways in which heterochromia can be classified (and the classification I give here may be revised in the near future). There is complete heterochromia, where each eye is fully of one color. So, for example, one eye is blue and the other is brown or one eye is amber and the other green, among numerous other possibilities. This can be either inherited or acquired, with the acquired form having numerous different causes.
Sectoral heterochromia
Central heterochromia in my own eye
There is also incomplete heterochromia, where the difference in eye color is not so distinctly defined. Incomplete heterochromia can further be broken down into types. The two types are central and sectoral. Central is where the iris has a central ring that is differently colored than the rest of the eye, such as a brown ring in an otherwise green eye. Sectoral heterochromia, on the other hand, is where a section of the eye is a different color than the rest, with no rhyme or reason to the placement, such as a brown flash in an otherwise blue eye. Again, incomplete heterochromia has a number of possible causes.
Causes are incredibly varied when it comes to heterochromia. When the condition is present from birth (congenital), it is overwhelmingly likely that it is an inherited trait in some form or another. Any of the types of heterochromia can be congenital. Sometimes the inheritance is obvious (such as another family member having the same trait), but other times it is not. Familial heterochromia (there the trait is inherited and runs in a family) is a rather common explanation. Others are partial albinism (complete absence of pigment in a small area of the body), piebalding (a form of dominant lack of pigment sometimes seen in humans), and the potential for congenital heterochromia to be caused by mosaicism (mutation) or chimerism (fusion of twins early in development).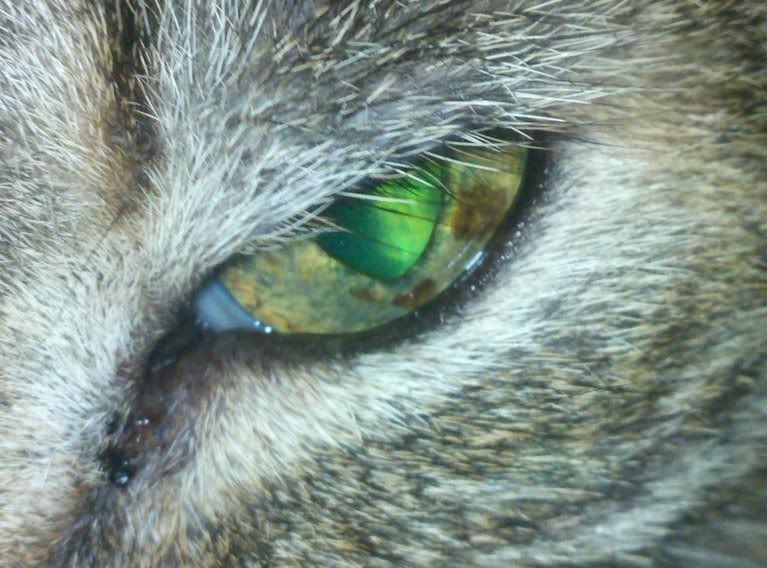 I suspect Jen's dark spots are from injury
Heterochromia can also be acquired, with the possible causes being quite numerous. One possibility is injury. Injury to the eye can case numerous types of alterations, including heterochromia. Blood vessels in the iris can leak or hemorrhage after trauma, causing potential for a permanent change in eye color. Central heterochromia can be a sign of high levels of toxins in the body. Numerous medical conditions can also lead to a partial or complete change in eye color, such as glaucoma (sometimes through the medications prescribed for treatment), neurofibromitosis, eye inflammation, foreign bodies, and numerous other conditions and syndromes. Some of the syndromes have other symptoms which are far more important than heterochromia, as they can be far more dangerous.
A cat with complete heterochromia
Many animals commonly will have heterochromia, while the condition is unusual in humans. Horses, cats, and dogs all have relatively high incidences of heterochromia, generally in combination with a certain color phenotype. As I mentioned in my previous post, dogs will have the condition most often in combination with the merle or white spotting genes, but also can have the color inherited independently. Cats that are mostly white (through the white spotting gene) or completely white (through the dominant white gene) are usually the only ones that will be seen with heterochromia, but this is not always the case. In horses, heterochromia is most commonly associated with pinto markings. Certain other animals, such as cattle, are also know to exhibit heterochromia.
EDIT: I forgot to add to this in. There are numerous celebrities nowadays who have heterochromia. Some are more famous than others, but all have fascinating eyes.
Mila Kunis
,
Christopher Walken
,
Kate Bosworth
,
Dan Akyroyd
,
Max Scherzer
and
Jane Seymour
all have heterochromia of various types, just to name a few.
David Bowie
is thought by some to have heterochromia, but in fact has a permanently dilated pupil.
Sources are Right Diagnosis, Sewanee University of the South, PubMed Central from the National Center for Biotechnology Information, Miles Research, h2g2, University of Maryland Medical Center, Indian Journal of Ophthalmology, and Wikipedia. Images except for my eye and Jen's eye are from Wikimedia Commons under Creative Commons licenses: one, two, three (mine), four, five (mine), six.