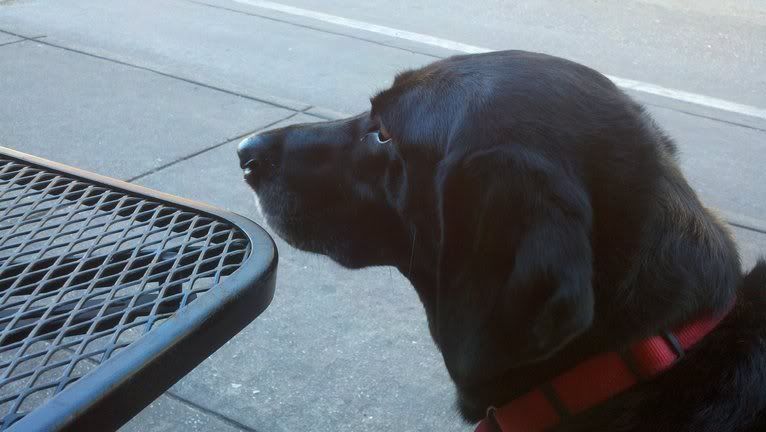 Ebon watching people walk past during lunch. He was a very good boy.
I took Ebon downtown for the first time today. He has been into the middle section of the city and the area where we live now, but he had never gone downtown before. We had a nice walk, traversing a good portion of the city, including eating lunch at one of my favorite restaurants, where the pictures were taken. We also went down to the river. It is one of the oldest parts of the city and has a long stretch of sidewalk along the water. Unfortunately, he had a little too much fun chasing sparrows. The sparrows (and pigeons as well) are only really found downtown, and since it was his first trip he had never seen them before. He's always had a great interest in birds (he is a bird dog, after all), but it's a bit embarrassing when he almost trips me while darting over to go investigate. I think I need to work with him on that.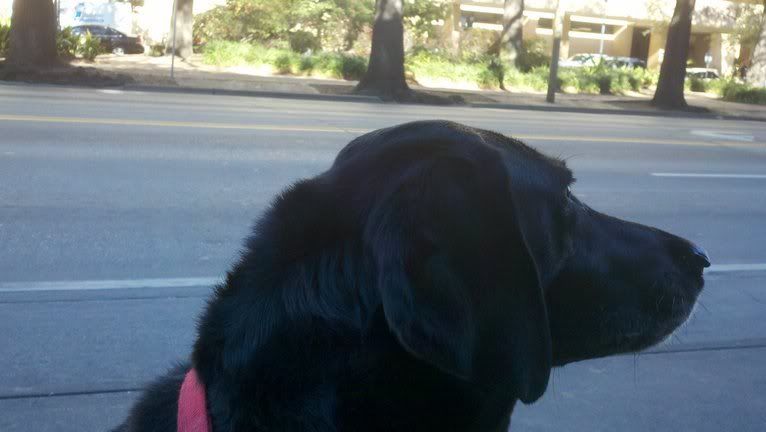 At the restaurant again. He was a bit startled when a semi truck drove by, but otherwise was calm. .
The city is rather dog friendly, and many businesses allow dogs inside. Numerous restaurants have tables outside so that you can eat with you dog present, like the one we went to. All of these places will offer water to your dog, which is a necessity since it can get so very hot here. It was fairly cool today, barely hitting sixty degrees. The weather was perfect for a nice long walk, though it did get a bit chilly in the shade.
One other things we did while downtown was get Ebon a new pack! There's an outdoors store downtown that has a fair selection of dog things among the people things. I caught sight of their dog packs, including the fact that they had Ebon's size for once, and decided to buy one. As part of this, I thought I would do a summary of the different packs and things that he now has.
I purchased Ebon's original pack about four years ago now. It's an old
Outward Hound backpack
in size X-Large and is actually the first saddlebag-style dog backpack I ever remember seeing. I actually had to go to some lengths to find one, eventually finding a seller on Amazon. You can't find one new anywhere now, so it seems. The stores all seem to be carrying the newer, though similar, style being manufactures by the company. The reason I chose to get it was cost reasons. It was the cheapest one I could find at the time at around $25. However, I have never been very happy with it. There are several downsides, such as an awkward fit and one of the straps being extremely close to his line of urination (it has gotten wet and required cleaning). It does serve its purpose, but is far from ideal. Now that I have a replacement, I think I'm going to pass this one on to my dad's new dog,
Siggy
. If nothing else, it'll get Siggy used to carrying a pack if my dad ever does want to go hiking with him.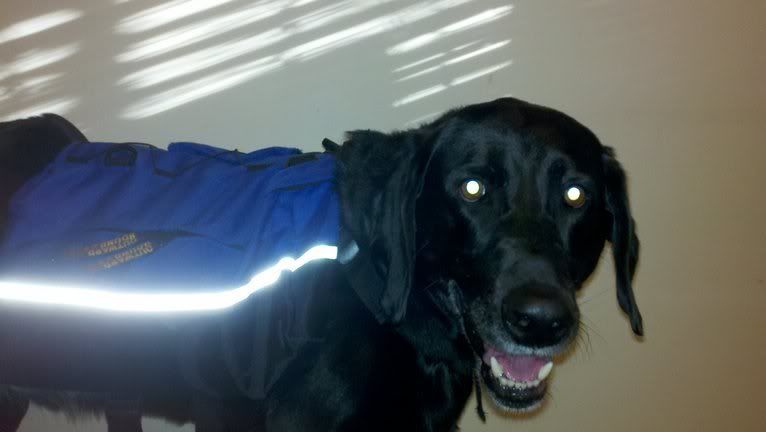 Ebon's old pack loaded with four liters of water, nearly nine pounds in weight. Notice the pressure being placed on his spine? This is the main reason why I wasn't completely happy with this pack. Anything more than four or five pounds and it starts getting uncomfortable for him. The maximum weight he should carry is about twenty pounds, so five is a paltry sum in comparison.
A vast improvement is the pack that I purchased today. It's a
Ruffwear Approach Pack
and the difference between the two packs is rather astounding. The new one is a better fit by far, though slightly more difficult to put on (it requires a leg to be slipped through a loop). It's significantly easier to adjust the size on and shifts much less after its been adjusted to the correct fit. Also, none of the straps dangle, so there's no risk of him peeing on them! The weight distribution is clearly superior, and a cutout in the back seems to be releasing pressure from the spine in the same way that
a saddle tree
does. Unlike with the Outward Hound pack, Ebon showed no discomfort after it had been weighted. In addition, there is plenty room for things to be clipped to the exterior of the pack via specially-made loops like those found on human packs (unlike the flimsy plastic loops on the other pack) and the leash loop is sturdy metal rather than plastic. I never used any of the loops on the old pack because I knew they would be broken if I had tried. Though the Approach Pack isn't meant for long hikes, I think it would be sufficient if you packed right. I'm sure I could make it happen. I paid the full $75 for the size Large, but I think it's worth every penny because of its quality.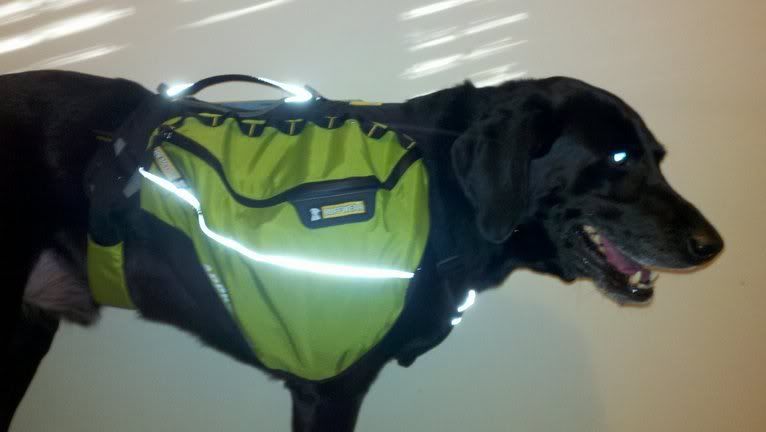 Ebon's new pack holding the same four liters/nine pounds. Notice the complete lack of pinching on his spine! Unlike the old pack, I might even feel comfortable enough to put a full twenty pounds in there. I do wish I could have found it in blue for old times sake, but the green is quite attractive.
Last, but not least, is Ebon's vest. I have
mentioned
it before and show pictures of it as well (
twice
), but I haven't spoken of it in detail. I purchased it some time ago after having a close call with a car while walking Ebon at night. Since he's so dark, he's nearly impossible to see at night. I did get him a reflective vest when he was a puppy, but he soon outgrew it. So, after some hunting, I came across the
PooBoss K9 Unility Vest
. Though I don't think I'll ever make Ebon carry his own poop, the vest's other uses are great. It's perfect for a walk or a short hike, making him easy to see and also allowing easy carrying of poop bags and other small items, such as keys. I also hope to one day get Ebon certified as a therapy dog, and it would be a great medium for patches proclaiming him as such. I could also see its use for service dogs for the same reason. I was able to buy it on sale for $20. It's available in multiple colors and sizes, quilted and non-quilted linings, and you can even get free shipping through
Amazon
through Amazon Prime. Ebon wears size X-Large, and it fits him perfectly.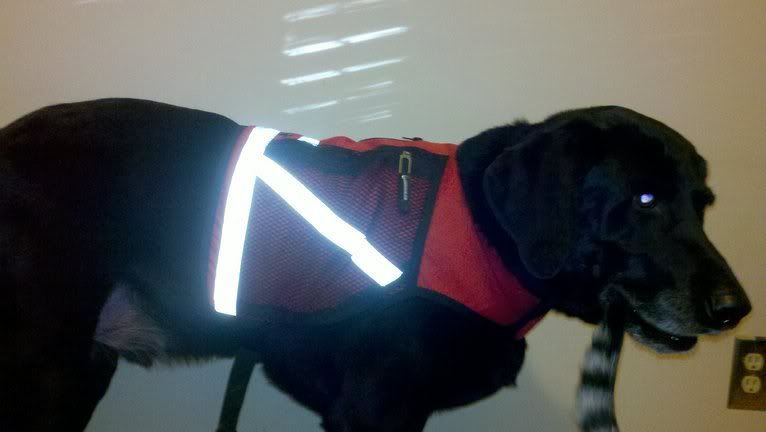 Ebon loves his vest, and darn is it ever reflective!