I was recently informed by a
friend of mine
that not only have dogs been getting sick from chicken jerky that was imported from China, but there has also been sickness linked to sweet potato treats. I recently bought some
Canyon Creek Ranch yam treats
which were, in fact, made in China. After some looking into the matter and finding
vets warning of the dangers
, I've decided to play it safe and am trashing the rest of the yams.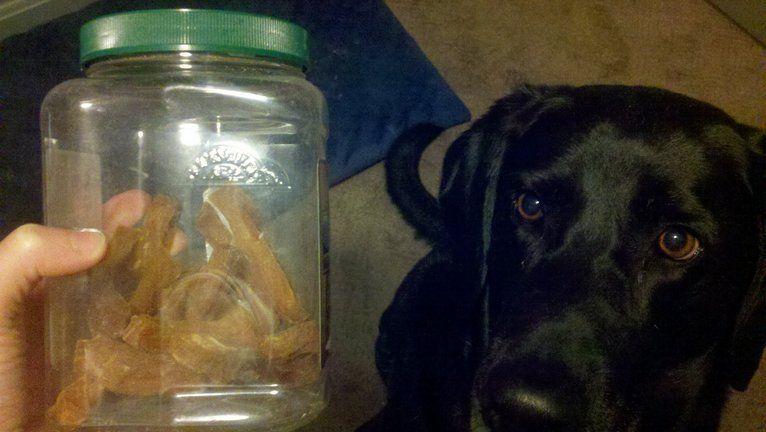 Ebon doesn't want me to throw them away. Yes, I keep treats in screw-top containers for ease of storage. This one once held couscous and will be sanitized and scrubbed thoroughly before anything else goes in it.
The symptoms that dogs have been developing after eating these treats have been very similar to
Fanconi's syndrome
. Fanconi is a disease of the kidneys, specifically the renal tubes, that messes with the body's ability to retain certain molecules. Symptoms include excessive thirst, weakness, weight loss, peeing in the house, lack of appetite, and the presence of certain materials in the urine, including glucose. If left untreated, Fanconi can be fatal. In the basenji breed, where this disease is a known issue, a common practice is testing a dog's urine for glucose using easily available diabetic testing strips. If the test comes back positive, then a more detailed blood test can be used to determine if the dog does indeed have Fanconi. Though Fanconi is best known as an inherited condition, exposure to certain chemicals can cause
acquired
Fanconi's syndrome by messing with the renal tubes' normal function.
I will be watching Ebon for any of the Fanconi symptoms, though I suspect that he will most likely be fine since he only had a few of the treats and, due to his size, he's less likely to be affected by toxic substances.
I don't think I will be buying dog treats from China again. I would be far happier with this situation if the companies were actually recalling the products since quite a number of animals have become ill after ingesting them. However, those named continue to deny fault, refuse to look into complaints, and parrot that their products are "safe." It's terribly upsetting.