This is the beginning of the dog food review series I'm doing.
Nature's Variety Instinct Duck Meal & Turkey Meal Formula
Dog Food Advisor rating:
★★★★★
This food is AAFCO approved for all life stages.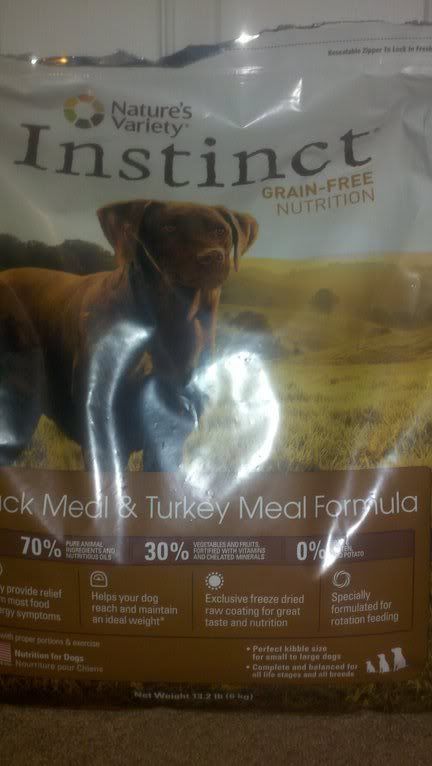 The bag
Ingredients:
Duck Meal, Turkey Meal, Salmon Meal, Tapioca, Canola Oil, Tomato Pomace, Pumpkinseeds, Herring Meal, Sun-Cured Alfalfa Meal, Montmorillonite Clay, Natural Flavor, Vitamins (Choline Chloride, Vitamin E Supplement, Ascorbic Acid, Biotin, Niacin Supplement, Vitamin A Acetate, d-Calcium Pantothenate, Riboflavin Supplement, Pyridoxine Hydrochloride, Thiamine Mononitrate, Vitamin B12 Supplement, Carotene, Vitamin D3 Supplement, Folic Acid), Potassium Chloride, Minerals (Zinc Proteinate, Iron Proteinate, Manganese Proteinate, Copper Proteinate, Sodium Selenite, Ethylenediamine Dihydriodide), Sea Salt, Dried Kelp, Peas, Cranberries, Blueberries, Direct-Fed Microorganisms (Saccharomyces Cerevisiae Yeast Culture, Dried Enterococcus Faecium Fermentation Product, Dried Lactobacillus Acidophilus Fermentation Product, Dried Aspergillus Niger Fermentation Extract, Dried Trichoderma Longibrachiatum Fermentation Extract, Dried Bacillus Subtilis Fermentation Extract), Inulin, Mixed Tocopherols with Citric Acid (a natural preservative), Rosemary Extract, Freeze Dried Turkey, Freeze Dried Turkey Liver, Freeze Dried Turkey Heart, Freeze Dried Ground Turkey Bone.
Items in italics will be discussed later.
Bag's recommended daily feeding instructions for an active dog 51-100 lbs: 2 5/8 - 4 1/8 cups
Crude Protein: minimum of 35.0%
Crude Fat: minimum of 22.0%
Crude Fiber: maximum of 3.5%
Moisture: maximum of 10.0%
Calorie content: 464 kcal/cup, 3,893 kcal/kg
Calculated amount
to maintain Ebon's ideal weight (82.5 lbs): 3.59 cups or 0.43 kg (0.946 lbs)
Price per pound when buying the largest bag (25.3 lbs at
$58.99
): $2.332
Estimated cost of feeding Ebon per year on this food: $805.09 (13.65 of the 25.3 lb bags)
Ebon receives slightly less than the calculated feeding amount to allow for his daily treats
Ebon's overall health on this food: Very good. His coat is shiny, poop compact and very consistent, energy level moderate to high.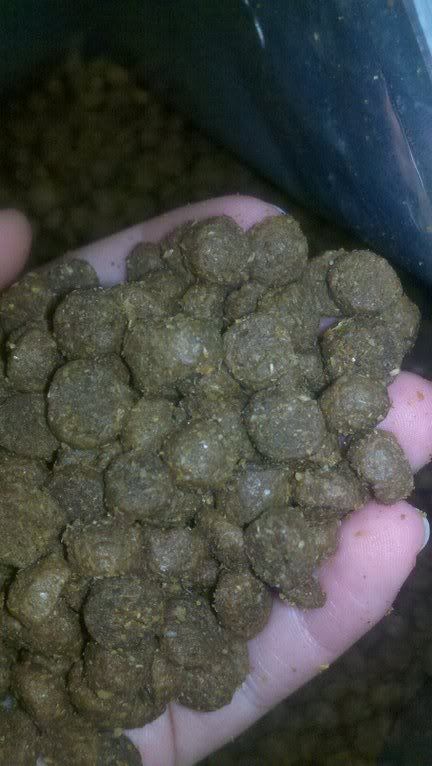 The kibble
I started transitioning from Ebon's old food on February 6th, and I just started transitioning him off of this food. Though his dental crisis did interrupt this review a bit, he was still on the food more than long enough to get a good sense of how he did on it. I continued the diet and softened the food, through this discovering that it produces a rather nice gravy when you add a bit of water.
The kibble itself is variable in size, which I found interesting. Most brands I've seen have a consistent size and shape. In fact, the bag has a picture of the kibble at its "actual size" and, though it looks consistent, the kibble inside of the bag is definitely not (some kibble being twice the size of other kibble).
This kibble is very heavy in meat content, as seen in the first three ingredients. The brand also boasts a freeze dried raw coating on the outside of the kibble, which is reflected in the ingredients list. In this case, that coating is made entirely of turkey parts. Ebon got very excited at the smell of this food, which is likely thanks to the high meat content and the outer coating.
Some nice things to see in this food: chelated minerals and probiotics. Chelated minerals are believed to be more easily absorbed and used by the body than non-chelated minerals, and probiotics/microorganisms help maintain good gut flora to provide for better digestion. One ingredient that some people may find distressing is
Montmorillonite Clay. Yes, that's right: clay. However, clay isn't necessarily a thing to be scoffed at. For one thing, this clay is known for its mineral content and is also reportedly effective at absorbing harmful toxins (such as the mold-produced ones sometimes found in contaminated grain) and keeping stool consistent. Since Ebon's stoll can become loose when he is stressed (not diarrhea, just loose), it was very interesting to see the effects of the inclusion of this clay. This food did help keep his stool consistent, despite such things as being placed under anesthesia for his dental. The last time he was put under, he had very runny stools for a day. This time, no problems.
Ebon's coat has also been better, with more shine and less dandruff. His skin tends to become a bit dry after his monthly bath, but this time it wasn't anywhere near as big of an issue. His energy level has been about the same if you exclude the days he was on painkillers following his dental. He seems to really enjoy the food. As I mentioned before, he became very excited as soon as I opened the bag. The days where I softened the food didn't change this at all, and it even seemed like the gravy may have made him more enthusiastic.
I was quite happy with how Ebon did on this food. I was especially happy with the state of his poop because, honestly, it's more than a bit frustrating when his anxiety causes goopy poop. I didn't mind it as much where I was living before, where it was a rural area and I only picked up his poop immediately if he went in a public area or on someone's lawn. But where I am now I have to pick up his poop every time or I could be fined. The softer the poop, the more difficult to deal with, particularly when fresh. However, this food is quite pricey, especially when compared to what he was eating before. Plus, his old food (Simply Nourish) provided far more consistent poop than what he was eating before that (Blue Buffalo Life Protection) and the changes in his overall health between Simply Nourish and Nature's Variety Instinct weren't that major.
Will I change foods? We'll see. More reviews are to come. Next up: Taste of the Wild.