Like I did with my little canned food review, I'm going to start lumping non-kibble reviews into twos and threes, trying to keep with a theme when possible. The three I'm reviewing today all came from the local Pet Supermarket. When it first opened several years ago, I visited and checked out their selection. It wasn't very good. However, I returned on a whim last month to discover that they had not only expanded their selection significantly, but the selection had also seriously improved in quality.
Merrick Tripe & Liver Patties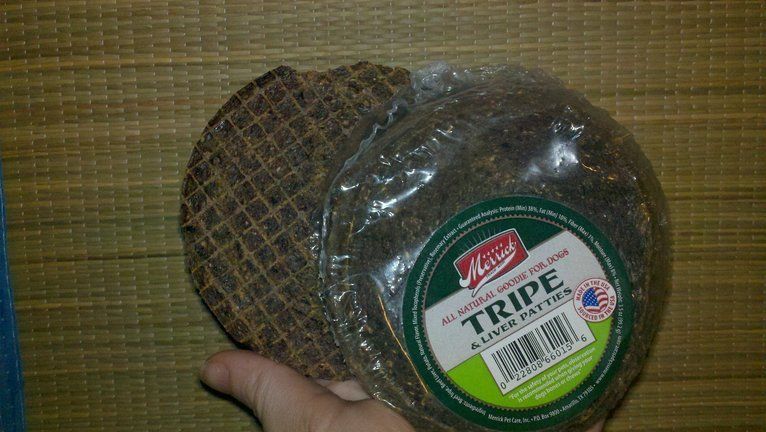 The patties come five to a pack
These patties are almost like meat crackers. They break very easily, which is great if you want to portion them out for a smaller dog, or for little nibbles for a larger dog. They smell meaty, with a pleasant hint of rosemary. I like the short ingredients list, which can be very helpful to those who have dogs who react poorly to certain ingredients. My fella doesn't have those problems, but I still like simple foods and treats.
One small downside to these treats is that, though it includes tripe, there's a lot of the tripe benefits of tripe that will be lost thanks to the treats being cooked. For those who don't know, tripe is part of the stomach of a
foregut fermenting
herbivore (aka ruminant) such as a cow and green tripe is minimally processed and includes some of the stomach contents in the mix. This has a lot going for it. Unlike just giving your dog greens, since the stomach contents have been partially digested there is a lot more nutrients available to your dog. This is partly thanks to the special microbes these animals have in their stomachs that help break down otherwise indigestible material, such as cellulose. Also, the inclusion of other things like digestive enzymes can also be beneficial. Since the tripe in this product has been processed and cooked, however, the enzymes are likely gone and it's questionable whether any of the stomach contents have been included in the mix. Due to this, the tripe is likely little more than a source of protein and fat.
Ebon loves the patties, going crazy for the smell and happily chowing down when I gave him one. For his size, it's a nice sized snack. I will probably be breaking the remaining patties down into smaller bits for training treats. I do plan to try out some other Merrick products in the future.
Ingredients
: Beef Tripe, Beef Liver, Potato, Natural Flavor, Mixed Tocopherols (Preservative), Rosemary Extract
Nutrition Facts
:
Crude Protein: minimum of 38.0%
Crude Fat: minimum of 18.0%
Crude Fiber: maximum of 1.0%
Moisture: maximum of 8.0%
Old Mother Hubbard Chick'N'Apples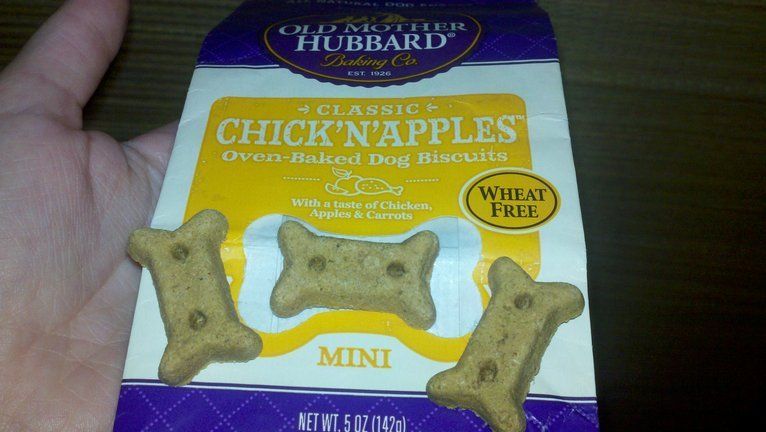 A five ounce bag has a good number of treats
I purchased the mini biscuits with the intent to use them for training. For a small dog, they would be a good snack size. For Ebon, they're nearly perfect for training bites. If I choose to do a particularly long session, they break easily for smaller portions.
These are a pretty average dog biscuit, heavy on the grain and light on the protein. The fact that the biscuits are wheat free is good for dogs that have issues with wheat, as the majority of the dog biscuits out there contain wheat. These particular treats smell dry and grainy like biscuits usually do, but with a faint hint of apple. Ebon enjoyed these as well, getting that expectant look he gets when I give him anything small. One mini bone was gone in a single crunch of his jaws.
Ingredients
: Ground Barley, Ground Brown Rice, Chicken, Apples, Chicken Meal, Chicken Fat (preserved with Mixed Tocopherols, a natural source of Vitamin E), Cane Molasses, Turmeric, Eggs, Carrots, Garlic, Salt, Mixed Tocopherols (a natural preservative).
Nutrition Facts
:
Crude Protein: minimum of 12.0%
Crude Fat: minimum of 6.0%
Crude Fiber: maximum of 3.0%
Moisture: maximum of 11.0%
Barksters Alfalfa & Liver Krisps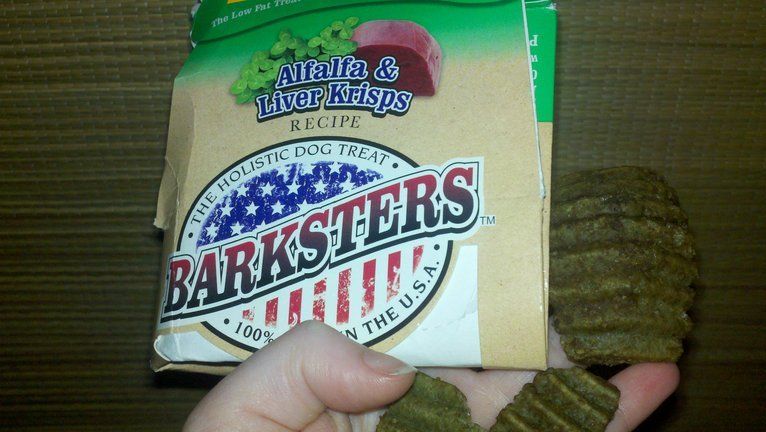 There were quite a lot of treats in this $4.00 package. I've folded it down for ease of photographing.
Again, I like the limited ingredient nature of this treat. The only grain is rice, which, though carbohydrate heavy, is usually well tolerated by dogs that may react to corn, wheat, or other ingredients. The smell of the treat is fairly equal parts meaty, grainy, and the sharp green smell of alfalfa. The alfalfa also helps sweeten doggie breath, which I was thankful for after the fishy breath Ebon had the entire time he was eating the
Wellness Super5Mix
. The texture of the treat is interesting: puffy and crispy like a number of cereals out there, including Rice Krispies. There's quite a lot of air in the treats, which may explain in part why the percentages in the guaranteed analysis/nutrition facts are so low.
This was another treat that Ebon really liked, partly, I suspect, due to the inclusion of liver. He really loves liver, and I know it, often picking treats that include liver over those that include other sources of protein. Like the others, these are easily broken down and, in fact, many of them were already broken into smaller bits than the two-inch treat you see in the photograph.
Ingredients
: Alfalfa, Rice Flour, Beef Liver, and Rice Bran Oil.
Nutrition Facts
:
Crude Protein: minimum of 8.0%
Crude Fat: minimum of 3.0%
Crude Fat: maximum of 9.0%
Crude Fiber: maximum of 4.0%
Moisture: maximum of 5.0%
After this, I have a couple of more things to reviews, then I'll be stopping for a little while so that Ebon can finish up the old stuff before I buy any more.