This is the seventh of the dog food review series I'm doing.
Evo Turkey & Chicken Formula
Dog Food Advisor rating:
★★★★★
This food is AAFCO approved for adult maintenance.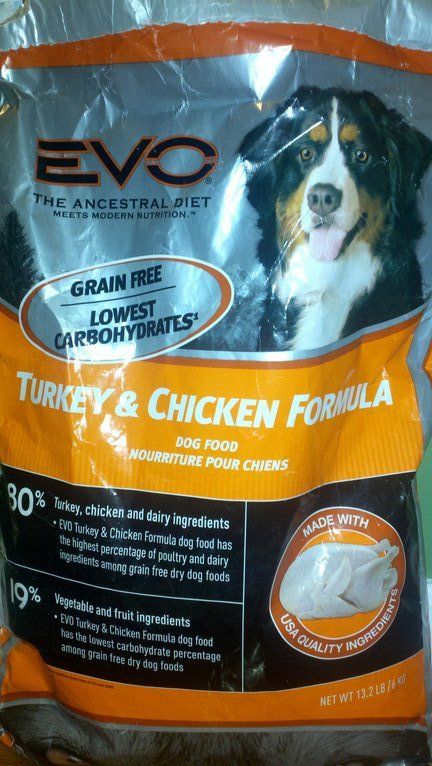 The bag
Ingredients:
Turkey, Chicken, Turkey Meal, Chicken Meal
, Potatoes,
Herring Meal
, Chicken Fat (Preserved with Mixed Tocopherols, a Natural Source of Vitamin E), Natural Flavors, Eggs, Apples, Tomatoes, Potassium Chloride, Carrots, Vitamins (Ascorbic Acid, Vitamin E Supplement, Betaine Hydrochloride, Vitamin A Supplement, Niacin Supplement, Calcium Pantothenate, Beta Carotene, Vitamin B12 Supplement, Vitamin D3 Supplement, Riboflavin Supplement, Pyridoxine Hydrochloride, Thiamine Mononitrate, Biotin, Folic Acid), Cottage Cheese, Minerals
(Zinc Proteinate, Iron Proteinate, Copper Proteinate, Manganese Proteinate
, Calcium Iodate), Alfalfa Sprouts, Dried Chicory Root,
Direct-Fed Microbials (Dried Lactobacillus acidophilus Fermentation Product, Dried Lactobacillus casei Fermentation Product, Dried Enterococcus faecium Fermentation Product)
Items in italics will be discussed later.
Bag's recommended daily feeding for a dog 80 lbs: 2 7/8 cups
Crude Protein: minimum of 42.0%
Crude Fat: minimum of 22.0%
Crude Fiber: maximum of 2.5%
Moisture: maximum of 10.0%
Calorie content: 537 kcal/cup, 4,243 kcal/kg
Calculated amount
to maintain Ebon's ideal weight (82.5 lbs): 3.10 cups or 0.39 kg (0.858 lbs)
Price per pound when buying the largest bag (28.6 lbs at
$61.99
): $2.1674
Estimated cost of feeding Ebon per year on this food: $678.79 (10.95 of the 28.6 lb bags)
Ebon receives slightly less than the calculated feeding amount to allow for his daily treats
Ebon's overall health on this food: Very good. Shiny coat, poop small and compact, energy level rather high.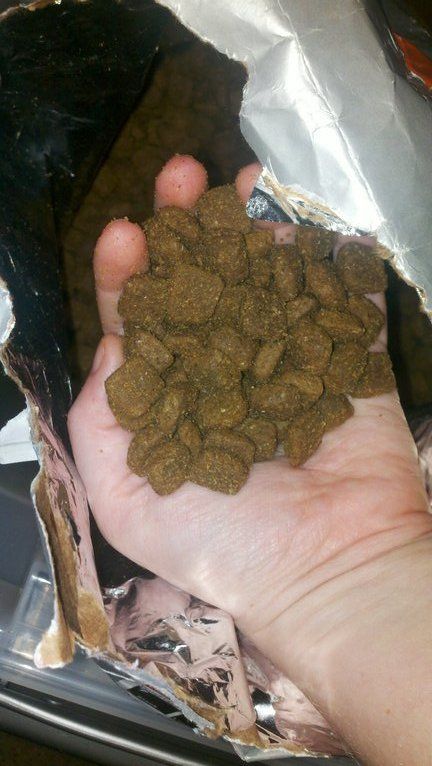 The kibble
I started transitioning from Ebon's old food on June 10th, and I started transitioning him off of this food yesterday. The kibble itself is nice and big and smells incredibly meaty. Since the food is so heavy on the meat content, this only makes sense. Some nice things to see in this food: chelated minerals and probiotics. Chelated minerals are believed to be more easily absorbed and used by the body than non-chelated minerals, and probiotics/microorganisms help maintain good gut flora to provide for better digestion.
I'm extremely happy with this food. Once I stopped over-feeding him (partly due to transitioning him from a larger quantity of food) he did wonderfully. During the first few days when he was getting up to a half cup more than he should have, he had an odd combination of very firm, compact stools followed by some soft stuff. I suspect this was due to him only digesting what he needed as the softness was almost the same amount as the extra food. Once I worked him down to the approximately three cups he needed (allowing for his daily treats) he did really great and had no more softness. The transition to the smaller amount did take him a little time, though. I had to time my treat giving to about halfway between meals or he would do some "my stomach is very empty" hurk-ing. After about a week, though, this went away as well.
I know that I talk about poop a lot when doing these reviews, but it's a good way of telling how someone is digesting their food. On this food, Ebon's stool has been the most compact that it's ever been. This is thanks mostly to the components of the food. For one, there aren't any protein- or fat-boosting plant ingredients and so these components of the food are almost completely coming from animal sources. This means that the protein is more complete, unlike most vegetable proteins which are missing some essential amino acids. Also, since dogs have short digestive tracts (as carnivores will), they aren't made to digest vegetable matter. Animal-based ingredients are more easily digestible and they can use more of what they take in than in foods that are heavy on plant products (including fruits, vegetables, and grains). This food is the highest in protein of any kibble I have ever seen. It's high in fat too and the dry matter content is actually less than 25% carbs. This is amazingly low for a kibble.
Ebon's energy level was a bit higher on this food. He had a lot more spazzy moments than he usually does and I was reminded of how he was at about three. He still has soft stools when he's stressed, but that's pretty normal. However, it is softer than what I usually see. Despite this, as long as I manage his stress his issues are few and far between (and less and less as I continue to work on desensitizing him to situations that stress him out). The only major downside on this food? The gas! Ebon had more gas than usual and my goodness did his farts ever stink. From what I've seen, this is a common concern.
Will I change foods? We'll see. Next up: Innova, because the cat once again got to a bag of food.