I decided to try out some of the products that are sold in the refrigerator or freezer section of pet stores. I spotted a new freezer case at the local Petsmart, and decided to try two of the sold cold dog foods. These are in no way practical to feed to Ebon on a regular basis due to the price per pound and the sheer amount it would take for him to get the amount of calories he needs daily. So, though these are full and complete foods, I am treating them as treats.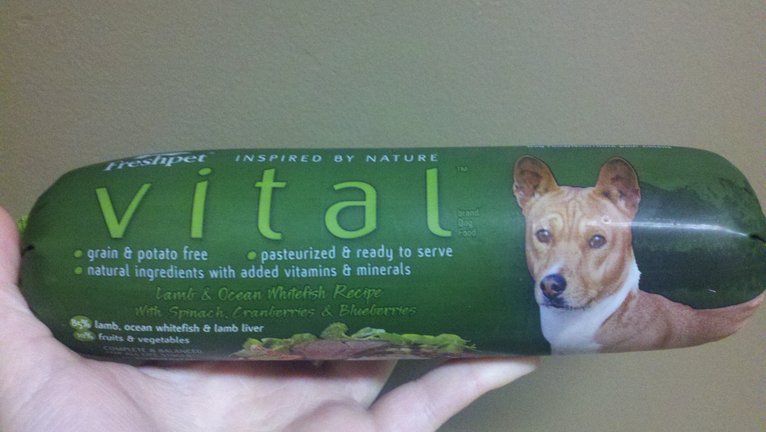 This is a one pound tube. Markers on the back allow for east division into 1/8 pound portions
Freshpet Vital
Lamb & Ocean Whitefish Recipe
Dog Food Advisor rating:
★★★★★
Ingredients
: Lamb, ocean whitefish, lamb liver, spinach, cranberries, blueberries, carrageenan, calcium sulfate, dicalcium phosphate, potassium chloride, iron proteinate, choline chloride, zinc proteinate, tricalcium phosphate, vitamin E supplement, manganese proteinate, copper proteinate, vitamin B12 supplement, niacin, calcium pantothenate, biotin, riboflavin, thiamine mononitrate, vitamin D3 supplement, calcium iodate, pyridoxine hydrochloride, folic acid, sodium selenite, natural flavors, sunflower oil, inulin, broccoli and pomegranate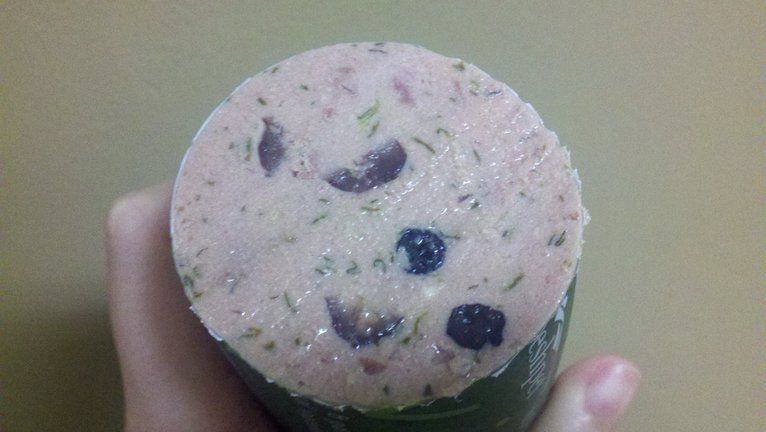 What's inside the tube
Nutrition Facts
:
Crude Protein: minimum of 9.0%
Crude Fat: minimum of 8.0%
Crude Fiber: maximum of 0.5%
Moisture: maximum of 77.0%
For the most part, the rolled/tube foods that I have seen have not excited me. The vast majority of them are full of unsavory ingredients, one of the worst offending being the Natural Balance rolls with
sugar as the third ingredient
. However, when I took a peek at the Vital ingredients I was pleasantly surprised. There are no filler ingredients, and it's heavy on the meat. What vegetable ingredients are included are ones rich in nutrients. This is why I picked up a roll to try out. The texture of the roll is not unlike bologna and it has a meaty smell. Though fish is the second ingredient, it doesn't overtly smell like fish. It's a nice, consistent sort of texture that is easily sliced into small portions that mostly keep their shape when handled. I used this food as a treat, and it is feasibly to use small portions as training treats as one might use hotdog. However, when the food begins to warm up it does soften.
Ebon really liked this food, both in larger and smaller chunks. I fed it to him cold, which definitely didn't dissuade his appetite one bit. I would consider giving this to him relatively frequently if it weren't for the price. A one pound tube is
seven dollars
. The recommended daily amount if I were to feed nothing but this food to Ebon is
over a pound
. This is, as I mentioned, completely impractical and also kind of insane (yearly feeding costs would be
over three thousand dollars
). Feeding a smaller dog could work, but I would not suggest it for an eighty-plus pound dog unless you have a lot of money to burn. Despite this, it is something I may possibly buy every once in a while as a treat.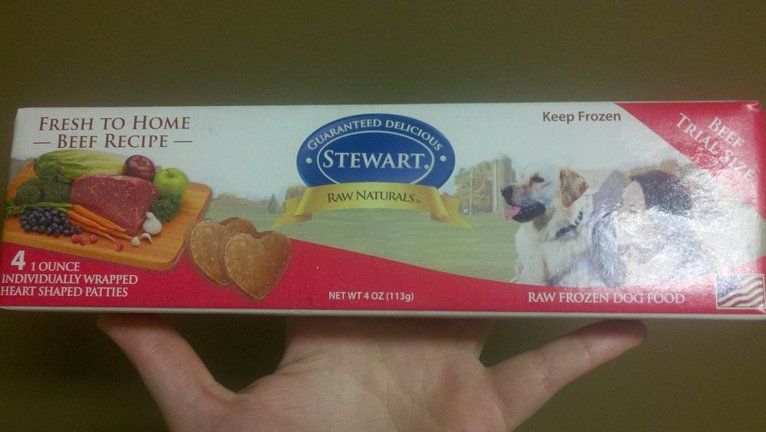 This is a trial size box of four individually wrapped, one ounce patties shaped like hearts
Stewart Raw Naturals
Beef Recipe
Dog Food Advisor rating: not listed
Ingredients
: Beef, Beef Heart, Beef Liver, Ground Beef Bone, Broccoli, Carrots, Beef Kidney, Romaine Lettuce, Apples, Ground Flaxseed, Salmon Oil, Apple Cider Vinegar, Blueberry, Cranberry, Inulin, Dried Kelp, Potassium Chloride, Sodium Chloride, Ginger, Parsley, Garlic, Zinc Proteinate, Iron Proteinate, Vitamin E Supplement, Copper Proteinate, Manganese Proteinate, Mixed Tocopherols (as preservative), Vitamin D Supplement.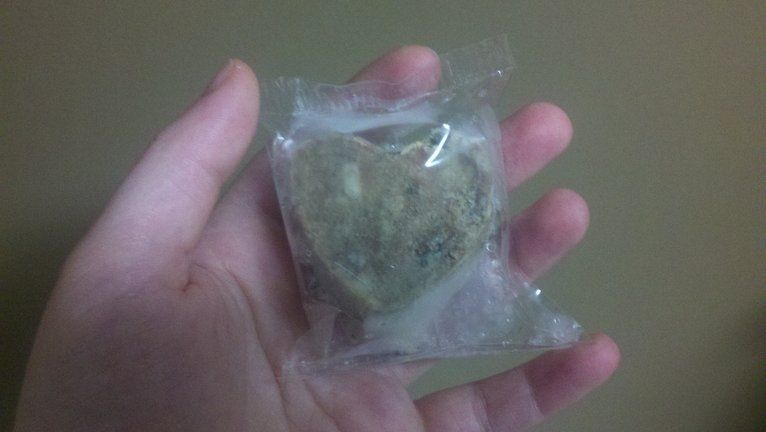 One patty, fresh out of the freezer
Nutrition Facts
:
Crude Protein: minimum of 12.0%
Crude Fat: minimum of 10.0%
Crude Fiber: maximum of 2.0%
Moisture: maximum of 72.0%
I was really surprised to find a raw food for sale at Petsmart, since raw foods are usually only found in boutiques. I've tried out some of the Stewart brand's treats before, but this was the first time I became aware of them selling anything beyond that. One nice thing about buying this food is that, since it's frozen, there isn't as much concern about it going bad. It defrosts rather quickly and, even though it's a bit grey when frozen, it pinks up as it defrosts. The patties are small, which makes portioning nice for treat-type feeding for a dog Ebon's size.
When you start to think about feeding this as a regular food, however, things can start to get a bit silly. Each patty is
thirty-four calories
, and the recommended feeding guidelines have a dog Ebon's size eating somewhere around twenty patties each day. However, calculating out the required amount based on Ebon's required caloric intake (between 1600 and 1700 calories), he would really need
fourty-nine patties
. Considering that the largest bags I would be able to get my hands on are sixty ounces, and the cheapest recipe, chicken, is
normally eighteen dollars
...it's a bit much (yearly feeding costs would be
over five thousand dollars
). This is another food that's really only practical for feeding to smaller dogs. In fact, if you did want to feed a small dog raw, this could be a nice option as raw feeding can be a bit difficult for those smaller dogs, especially if their teeth aren't very good.
Ebon did quite like the patties, even when I forgot to defrost one of them. Even though he was quite content to eat them, I prefer things that are more easily portioned out if I intend to feed it as a treat. One ounce is a bit large for something like training, as it requires a lot of chewing. Trying to break a patty down smaller is hard when it's frozen and frustrating when it's defrosted since it's basically just ground meat. I might buy another trial box for a special occasion, but other than that I don't really see myself bringing more home.