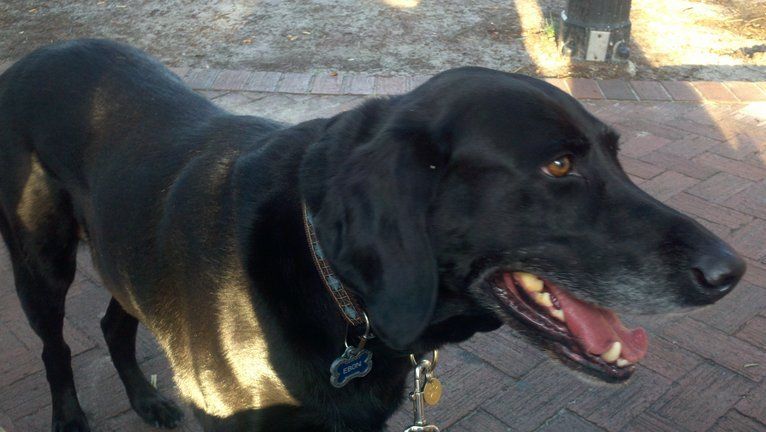 Ebon in a square, watching a man make palmetto roses. Many people make them and sell them to tourists
We went downtown today. It's been quite some times since I took Ebon down there, so after some discussion my mother, my significant other, Ebon, and myself all hopped into a car and headed down. I live in a far quieter part of the city, so it's always an interesting experience. We spent hours there, walking around and eating dinner at our favorite downtown pizza place and ice cream at our favorite downtown ice cream place, which I've
mentioned before
. I feel really rather awkward trying to take pictures of the dog while surrounded by people, so I only snagged the one above while we were sitting in a square, enjoying some fresh squeezed lemonade and waiting for a table so that we could eat dinner.
Today was mostly an experiment in patience with Ebon. He was really good, but didn't want to settle down while we ate. He mostly wanted to sit or stand and either watch the passing people or stare at the people who were eating. Even worse was the fact that he wanted to chase ever sparrow he saw. There were a lot of them. I took the chance to try and keep him in a comfortable down, giving him lots of encouragement and cookies for doing so. He's learning. The pizza place is wonderfully dog friendly, bringing Ebon a big bucket of ice water to enjoy. He also got a lot of attention from other people, including at least one woman who took his picture. I'm wondering if she was a tourist.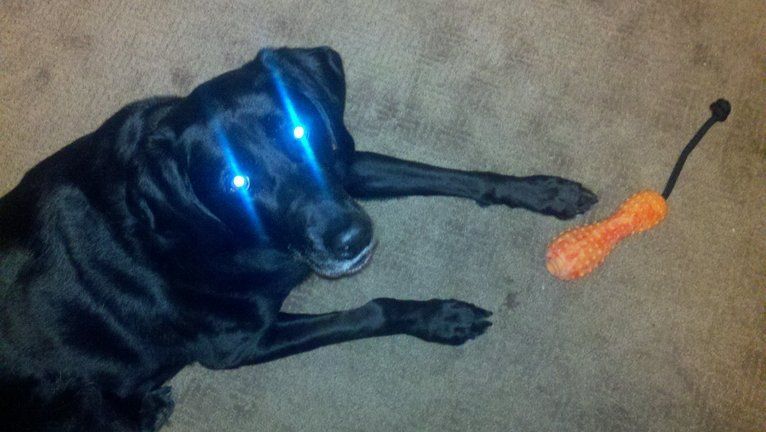 Bad picture, happy dog
We ducked into just about every dog-friendly place we saw while down there. I keep forgetting how many stores allow dogs inside and how many keep bowls full of water outside for thirsty pups. We even stopped by the
place where I bought Ebon's pack
. After some looking through their wonderful supply of outdoor things, I went to where they keep their dog products. I spotted a
Ruffwear Gourdo
. I couldn't help myself. Next time I have a chance to have him off leash I'll be trying it out for real.