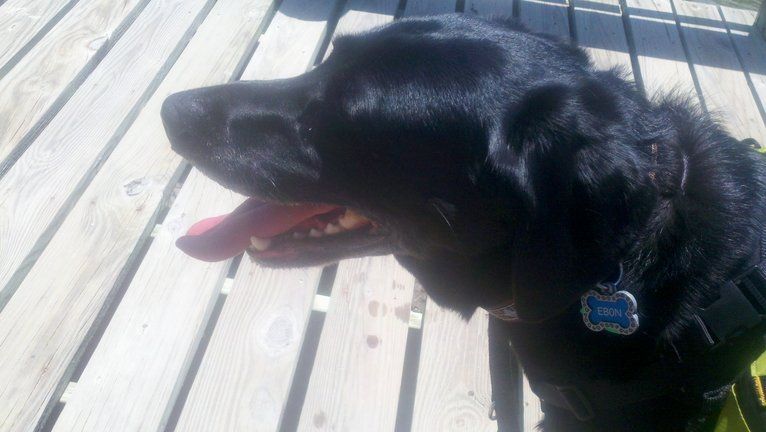 Ebon during a water break
I took Ebon back to the
state park
today, taking my mother and significant other with me. I was hoping to go when it was fairly cool, but as it turned out we ended up at the park during the hottest part of the day. The high today was 89, but with 56% humidity and a
UV index
of 10 the heat index got up to 94. We took plenty of water, but the day had to be cut short with an expected five to eight mile walk shortened to just three. Why? Poor Ebon couldn't take it.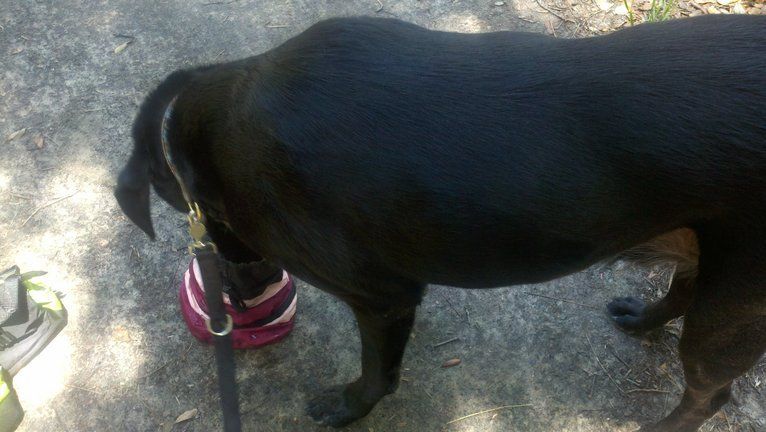 After he stopped
It's been cool lately and he hasn't carried a weighted pack in at least a month. I thought he would be fine carrying the eight or so pounds he had (~10% of his body weight) as long as we drank plenty of water. However, he didn't seem to want to drink much water when we stopped. So, we kept on. After we had gone about two miles, he did a little hitch in his step, then stopped and flopped down in the middle of a shaded part of the trail, panting heavily. I stripped his pack off and offered him more water. I would have taken off his collar too if it weren't for the park leash rules. We stayed there for some time while he drank and I splashed water on him to try and cool him down. It wouldn't have been so bad if we were at home, but we were
in the middle of a forest
. He spent a good twenty minutes alternating between laying down and drinking. By that time, he was acting more perky so we began taking the short way back, us carrying his pack. I took a little diversion along the way to let him splash in the shallows of the river that runs parallel to parts of the trail. On the way back, he even did his happy little prance-wag at the sight of a pair of Jack Russells what were coming down the trail.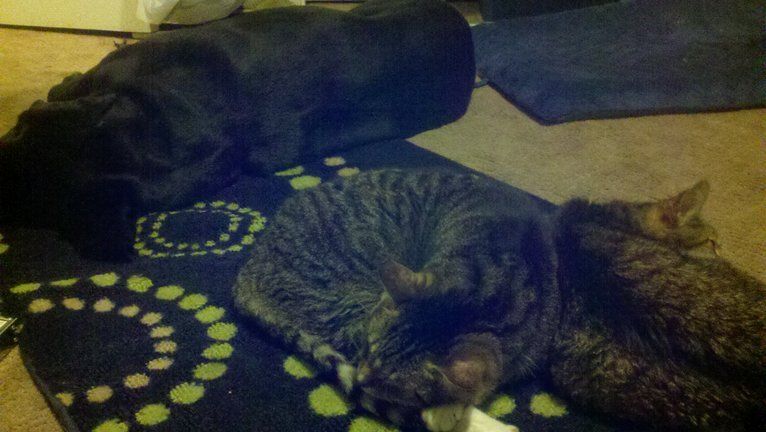 Ebon now, contently sleeping with cats
At the car I put him in some shade and offered him more water. I also took an icepack (my mom happened to bring a cooler) and alternated applying it to under his front legs and under his ears, where he felt the warmest. When he was panting more gently, we hopped in the car to leave, AC on full. It wasn't until we were back at the condo and he had time to lay on a nice, cool floor that he finally stopped panting. He's been normal even since.
I've learned a valuable lesson about this. Usually, Ebon's up for just about anything, but there are a number of things that were likely contributes to his overheating. First, since he's black his coat absorbs heat like crazy. I know this and normally he's able to regulate his temperature just fine, but it was hot and the UV index probably made him heat up faster than normal. Second, the weight of the pack and it's addition of a layer of padding over his fur probably made things worse thanks to his exertions and the insulating and restrictive nature of the harness. It also didn't help that he wasn't wanting to drink the water I offered him. Next time, he won't be carrying weight if the index is over 90. We also won't we going such a long distance during the hottest part of the day.
I feel like an idiot for pushing to the point he got to today. My mother actually thought he might have been having a seizure when he hitched before he flopped, but it was clear that wasn't what was going on. For now, he hasn't had a seizure
since October
.