This is the ninth of the dog food review series I'm doing. This is another food whose formula is changing, so I was able to snag two small bags for half price. This was originally going to be a short review, but I was able to snag the second bag, which was hiding away in a corner.
Go! Natural Grain Free Protein-Rich Endurance Formula
Dog Food Advisor rating:
★★★★★?
(listing is for the new formula)
This food is AAFCO approved for all life stages.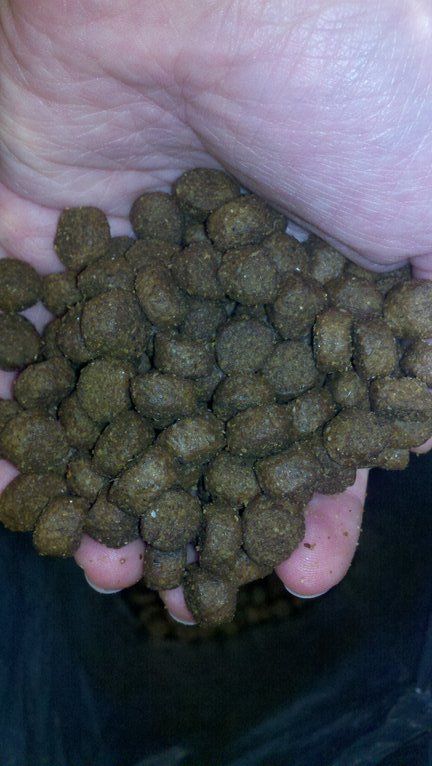 The kibble
Ingredients:
Turkey meal, chicken meal, de-boned chicken
, potato, chicken fat (preserved with mixed tocopherols, a source of vitamin E), whole dried egg, salmon meal, apple, peas, natural flavour, tomato pomace, duck meal, salmon oil, flax seed oil, yeast extract, potassium chloride, taurine, choline chloride, pumpkin, carrots, bananas, blueberries, cranberries, lentil beans, broccoli, spinach, cottage cheese, alfalfa sprouts, chicory extract,
Lactobacillus acidophilus, Lactobacillus casei, Enterococcus faecium, Bifidobacterium thermophilum, dried Aspergillus niger fermentation extract, dried Aspergillus oryzae fermentation extract
, vitamins (vitamin E supplement, L-ascorbyl-2-polyphosphate (source of vitamin C), niacin, inositol, vitamin A supplement, thiamine mononitrate, d-calcium pantothenate, pyridoxine hydrochloride, riboflavin, beta-carotene, vitamin D3 supplement, folic acid, biotin, vitamin B12 supplement), minerals (
zinc proteinate, copper sulfate, copper proteinate, manganese proteinate
, manganous oxide, calcium iodate, sodium selenite), yucca schidigera extract, dried rosemary.
Items in italics will be discussed later.
Bag's recommended daily feeding for an active dog 70 lbs: 3 cups, 90 lbs: 3 1/4 cups
Crude Protein: minimum of 34.0%
Crude Fat: minimum of 16.0%
Crude Fiber: maximum of 4.0%
Moisture: maximum of 10.0%
Calorie content: 470 kcal/cup, 4,160 kcal/kg
Calculated amount
to maintain Ebon's ideal weight (82.5 lbs): 3.55 cups or 0.40 kg (0.88 lbs)
Price per pound when buying the largest bag: Unable to do calculations as all sellers I could find were out of stock
Estimated cost of feeding Ebon per year on this food: Unable to calculate for same reasons
Ebon receives slightly less than the calculated feeding amount to allow for his daily treats
Ebon's overall health on this food: Very good. Shiny coat, poop consistent and compact, energy level moderate to high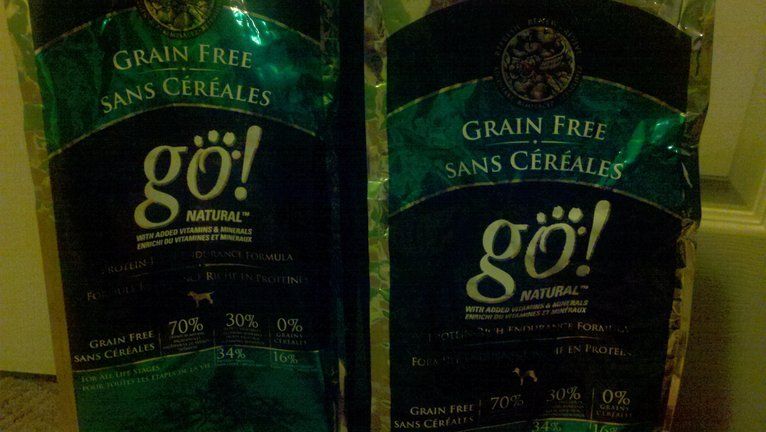 The bags (each is six pounds)
I started transitioning to this food on July 28, and I am currently transitioning him off of it. The kibble itself is nice and dark and roundish with a pleasently meaty smell. The smell is typically for a food with its sort of formula: a moderately meaty smell. The meat content of this food is significant, considering the fact that the first three ingredients are meats, and two are the more nutritionally dense meat meals. Some nice things to see in this food: chelated minerals and probiotics. Chelated minerals are believed to be more easily absorbed and used by the body than non-chelated minerals, and probiotics/microorganisms help maintain good gut flora to provide for better digestion.
Ebon did great in this food, especially after he got over the stress caused by Siggy's morning "I need to potty and eat" whining barks. He was pretty typical Ebon, happy and rather energetic. His coat was fine, especially after I gave him a much-needed bath. He's wonderfully soft right now, with his fur being beautifully shiny and soft and silky to the touch. He did experience some stress while on this food, and did indeed do his normal stress poops. They were less lose than on other foods, but it still happened, which seems to be how he is on any food with a protein content over thirty. He did develop some tartar while on this food, but it's on the side with his missing tooth, which he doesn't like use to chew his duck feet or other treats that will help keep his teeth clean. So, that just means I need to brush them more often.
I also love that the label is in seven languages, but it also made it
very hard to read
!
It's a bit of a shame that the formula is being discontinued, partly due to the fact that the
new version
includes some ingredients I am unsure about after Ebon's unfortunate reaction to
one of the foods
in my trials. At this point, I rather doubt I'll try the new formula due to this fact. And Ebon did so well on the old stuff, too
Ebon's still a little chunky, but has lost at least a pound or two since Siggy left and I put him on a minor diet. I like him lean because it's better for his joints, so I want him back to the way he was before he started stealing food from the other animals. I don't weigh him regularly, but do the "look and feel" weight assessment regularly. When he's at the weight the veterinarian wants me ti keep him at (the 82.5 pounds mentioned above) you can faintly see a rib or two, and right now they're padded with fat. If it would
stop raining so heavily
I will also be increasing his exercise.
Will I change foods? We'll see. Next up: California Natural.