This is the fifth of the dog food review series I'm doing. Thus far, it's the only food I have felt the need to return for the reasons I will discuss below.
Merrick 5-Star Entrees Grammy's Pot Pie
Dog Food Advisor rating:
★★★★☆
This food is AAFCO approved for all life stages.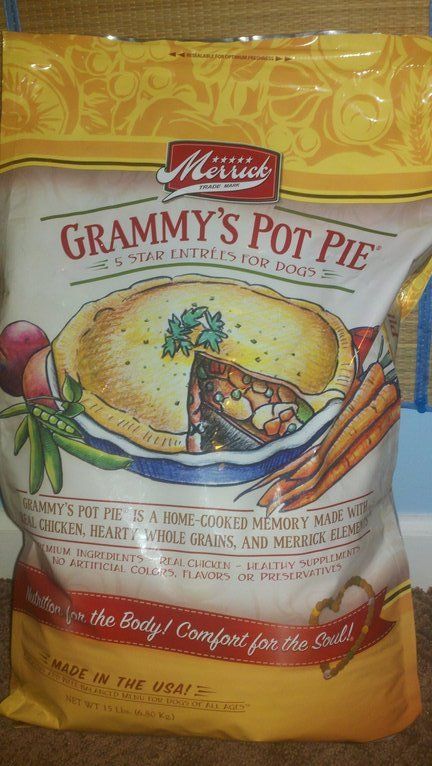 The bag
Ingredients:
Chicken, Chicken Meal, Ground Rice, Oat Meal, Pearled Barley, Turkey Meal
, Chicken Fat (Preserved with mixed tocopherols), Ground Whole Barley, Natural Flavor, Rice Bran,Yeast culture, Dried Egg Product, Hydrolyzed Yeast, Salmon Oil (a natural source of DHA - Docosahexaenoic Acid), Calcium Carbonate, Dried Potato, Dried Carrot, Salt, Potassium Chloride, Dried Apple, Dried Peas, Dicalcium Phosphate, Alfalfa Nutrient Concentrate, Choline Chloride, Dried Blueberry, Dried Cranberry, Yucca Schidigera Extract, Inulin (from Chicory Root), Egg Shell Meal,
Ground Fennel, Dried Parsley, Dried Marigold
, Rosemary Extrac, Zinc Amino Acid Complex,
Enterococcus faecium, Lactobacillus plantarum, Lactobacillus casei
,
Iron Amino Acid Complex
, Vitamin E Supplement,
Manganese Amino Acid Complex
, Vitamin A Supplement, Vitamin B12 Supplement,
Copper Amino Acid Complex
, d-Calcium Pantothenate, Vitamin D3, Niacin, Lecithin, Riboflavin Supplement, Biotin, Ethylenediamine Dihydriodide, Pyridoxine Hydrochloride,
Cobalt Proteinate
, Folic Acid, Thiamine Mononitrate, Sodium Selenite, Colbalt Carbonate
Items in italics will be discussed later.
Bag's recommended daily feeding instructions for a dog 75-100 lbs: 2¾ – 3¼ cups
Crude Protein: minimum of 24.0%
Crude Fat: minimum of 14.0%
Crude Fiber: maximum of 4.0%
Moisture: maximum of 10.0%
Calorie content: 356 kcal/cup, 3,560 kcal/kg
Calculated amount
to maintain Ebon's ideal weight (82.5 lbs): 4.68 cups or 0.47 kg (1.034 lbs)
Price per pound when buying the largest bag (30 lbs at
$49.99
): $1.6663
Estimated cost of feeding Ebon per year on this food: $628.89 (12.58 of the 25 lb bags)
Ebon receives slightly less than the calculated feeding amount to allow for his daily treats
Ebon's overall health on this food: Not good. Though his energy level didn't change, he became itchy, vomited once, and also had rather soft stools and a
very
bad bout of diarrhea the day I finally took him off of the food.
I started transitioning from Ebon's old food on May 8th, took him off of the Merrick on the 11th, put him on a bland diet for a day, put him back on it on the 12th and I took him off of it completely after his incident on May 16th. He was on a bland diet with a dash of pumpkin for two days before I began transitioning him from that onto
Simply Nourish
as I know he is stable and does well on it and I've been using it to transition between foods during all of these food trials. He has not had a repeat incident since the one on the 16th.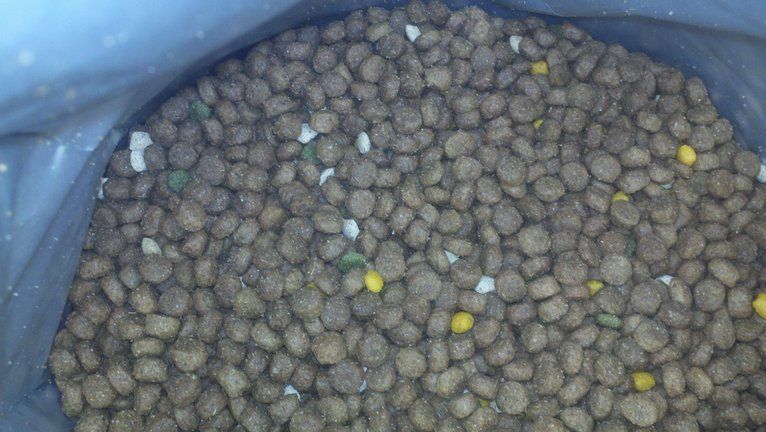 The kibble. Broad picture so you can see the "Elements"
The kibble itself is rather moderate to small in size and includes these colored "Elements" that are high in calcium (egg shell meal?), chlorophyll (alfalfa nutrient concentrate?), and lutein and beta-carotene (dried carrot?). These are a bit like the LifeSource Bits in Blue Buffalo foods in that they are an attempt to prevent the damage to nutrients that occurs during the cooking process. The food smells like a typical kibble, though perhaps a bit oily.
Ebon did extremely poorly on this food, and looking at his reactions and how quickly the symptoms went away once I took him off of it, I suspect that he had an allergic reaction to something in it. The itching, the intensification of his reaction the longer he was on it, especially after I removed and then re-introduced the food. At the end of these food trials I will be doing a complete comparison of ingredients between the foods he has eaten and see if I can figure out what this ingredient could possibly be. Some things currently stand out, including the marigold, parsley, and fennel which have not been in any of the foods I have recorded thus far on this blog. This is also the only food that contains cobalt, however I doubt this is relevant. Also, interestingly enough, it shares some ingredients with foods that he hasn't done as well on, including two of the probiotics (
L. plantarum
and
L. casei
, which are in both
Wellness
and
Taste of the Wild
). Of all of these, I am most surprised to see marigold in this food. Thus far, this is the only food I have heard of that includes such an ingredient.
Though I suspect an allergy,
I really do not know what happened
. This is why after I took him off of the food, I cleaned and sanitized every single thing that the food came in contact with in case it had something to do with a bacterium or other element on or in the food. I am not a vet, but it is suspicious that his digestion was basically back to normal as soon as I removed the food. It's true that I switched him to a bland diet immediately (rice and ground beef drained and rinsed of fat, pumpkin added for the second round), but even then such a switch usually takes a couple of days to work. Here, after he removed the food from his system he seemed to be perfectly fine.
Since Ebon was on this food for such a short period of time, I am hesitant to make any major conclusions about my opinion of the food. On its surface, it seems to be a pretty good kibble. It fits a lot of the things I like to see in kibble, such as named ingredient sources, prominent featuring of meat ingredients, inclusion of probiotics, and chelated minerals. However, the number and location of the grains on the ingredient list make it clear this food is grain-based. I did some searching around for other opinions on Merrick's foods and I have found a lot of positive reviews as well as a lot of negative ones. Overall, I give this food a hearty...meh. It clearly didn't work for Ebon, but it's quite possible other dogs could do perfectly well on it.
Will I change foods? We'll see. Next up: Blue Buffalo Wilderness.