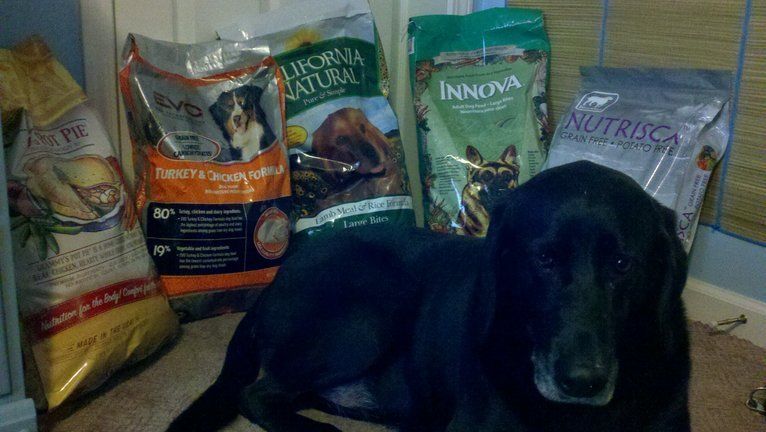 Ebon with the food, ordered by the "best if used by" dates. The foods that will expire soonest are to the left, latest to the right. All of these were purchased at the local Pet Supermarket. I also picked up some treats to replace the ones I recently trashed.
I mentioned in my
Castor & Pollux review
that I would be soon making my decision about whether or not I would be doing more reviews. I've decided I am, so today I went and picked up five more foods that I'll be reviewing over the next few months. This time, all of the bags I purchased were fifteen pounds except for the thirteen-point-two pound bag of Evo. My only real requirements for the foods I was picking were that they all had to be four or five stars on Dog Food Advisor (DFA), and were not to have been involved in the recent recalls that have been coming out of the recalls that have been traced back to the
Diamond Dog Food plant in Gaston, SC
. You will note that California Natural is actually a three star food, which I will be getting back to.
Merrick 5-Star Entrees
First on the list is a bag of
Grammy's Pot Pie
.
Merrick
produces a wide variety of products, including the Castor and Pollux line that I so recently reviewed. The
5-Star Entrees
is just another of the several brands they produce, which also include Before Grain and Whole Earth Farms. All of the brands they produce are good, with none of the kibbles dropping below a four star rating on DFA. The 5-Star Entrees line itself is a
four star line
, though the cans
are five stars
.
An important note
: due to the date on the bag of Merrick I purchased, and the fact that I have not yet opened the Blue Buffalo Wilderness, I am rotating this food forward. That's right,
I will be reviewing this food beginning tonight
, when I would have otherwise been opening my bag of Wilderness. The Wilderness review will then follow.
Evo
I also picked up a bag of
Turkey & Chicken Formula
. Evo is one of several brands manufactured by
Natura Pet
, who produces five different lines of kibble and cans which range from thee stars to five stars. Evo is overall a
five star line
, though the 95% cans are only
four stars
. So far, this will be the food with the highest protein
by far
that Ebon has ever eaten, with a crude protein level of
forty-two percent
. Hopefully he handles it well and doesn't turn out like
Siggy
, who can't handle protein levels over about twenty-five percent. So far, Ebon has done great on a variety of protein levels, but the highest thus far has only been
thirty-five percent
.
California Natural
I actually picked this food up on accident. I thought it was a four star food, but it is actually
only three stars
. It's only some of the grain free products by this brand that are
four or even five stars
. Their canned foods are all
five stars
. California Natural is also another brand produced by Natura Pet. I almost picked up a bag of their grain free
Kangaroo and Red Lentil
food, but opted instead for the
Large Bite Lamb Meal & Rice Formula
. Interestingly enough, both foods have the same three star rating, which is proof that a grain free food isn't automatically stellar. Though three stars is still a rather good food, this will be the lowest rated food that Ebon has eaten in a number of years. I'm still going to include the food in the reviews both to compare it to the other foods he has eaten and since there aren't many ingredients and those that are in the food are rather good and are unlikely to pose any issue to Ebon.
Innova
The next bag I picked up is the
Large Bite Adult Dry Dog Food
. Overall, Innova is a highly rated brand. Except for their three star senior and low fat formulations, their kibble is mostly
four stars
, and the grains free ones are even
five stars
. The cans are
four stars
. Innova seems comparable in ingredients to a couple of foods Ebon has been fed before, with its multiple protein and grain sources. We shall see how well he does on it compared to those similar foods. Innova is yet another brand produced by Natura Pet. I wasn't aware that these three foods were all Natura products until I began ordering them by expiration date. It will be quite interesting to compare these foods, all of which are vary in quality, and to see how Ebon does on a range of foods from the same corporation.
Dogswell Nutrisca
Dogswell is a brand I know far better as a producer of dog treats rather than dog foods. However, everything I have seen about their products and everything I have experiences feeding their treats in the past have been positive. Their foods are all
four
or
five stars
, with the vast majority being
five
stars
like Nutrisca
. Nutrisca is an interesting set of foods as not only is it grain free, but it's also potato free. The only sources of carbohydrates in the food are vegetables such as chickpeas and peas, and some fruits such as apple and blueberry. I am quite curious about how Ebon will react to this food, as he has not been fed anything quite like it before. Of the three formulations, the
Chicken and Chickpea recipe
, which I bought, has the highest protein content.
If it were not for the recent flood of recalls I would likely be reviewing foods from the Canidae and Natural Balance lines. Though these foods have not tested positive for Salmonella, other food produced at the Gaston plant have. The additional recalls have been precautionary, and I applaud the company for doing this. Once things have been sorted I do intend to try out their products as well.