Since today's been horribly dreary thanks to
Beryl
, I decided to finally get around to posting about this little project. I mentioned that I was thinking about making homemade frozen yogurt treats when I reviewed
Freshpet's Wag-gurt
. Well, I did.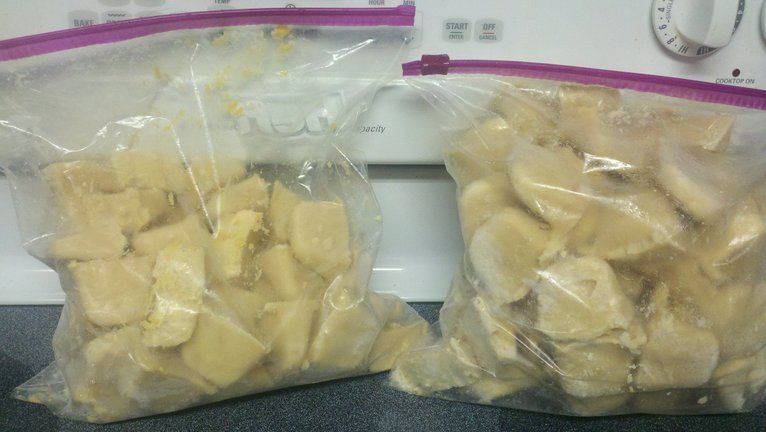 All of the treats I made in gallon-sized bags. For about twice the price of the Wag-gurt you get the equivalent of around four times the treats. These should last all summer at the very least!
Materials:
Large mixing bowl
Something to mix with (I used a large spoon)
Mold that can be frozen (I used a
standard ice cube tray
)
- Try to choose a mold appropriate for the size of your dog.
Ingredients:
56 oz yogurt (I used 32 oz plain yogurt, 24 oz plain Greek yogurt)
12 oz jar peanut butter (chunky)
1 tbsp honey
Apple juice
Directions:
Combine yogurt, peanut butter and honey in a large mixing bowl. Mix until no more globs of peanut butter can be seen. The consistency should be smooth and pudding-like if you ignore the bits of peanut.
Add apple juice until the mixture becomes watery.
Pour into mold and freeze until firm.
Remove from mold and serve.
Possible variations:
Substitute fat free yogurt for a pup who could loose a few pounds.
Replace peanut butter and honey with your pup's favorite fruit (mashed).
Leave out honey and replace apple juice with water for a pup that has issues with sugar.
Replace honey and peanut butter with your pup's favorite meat (ground or chopped fine) for a more savory treat.
Use your imagination!
All of the measurements given are approximate, so if you want to use more or less of any of them it should work out just fine.
I actually made and froze the whole batch of these suckers several weeks ago now. It took me several days to freeze the entire mixture since we only have one ice cube tray this size (the others make teeny tiny cubes). I intended to count how many treats were made, but I lost track around the fourth tray-full or so. I think there are about eighty treats. Since Ebon was
having some issues
while I was freezing them, he hadn't been able to try them yet. The verdict?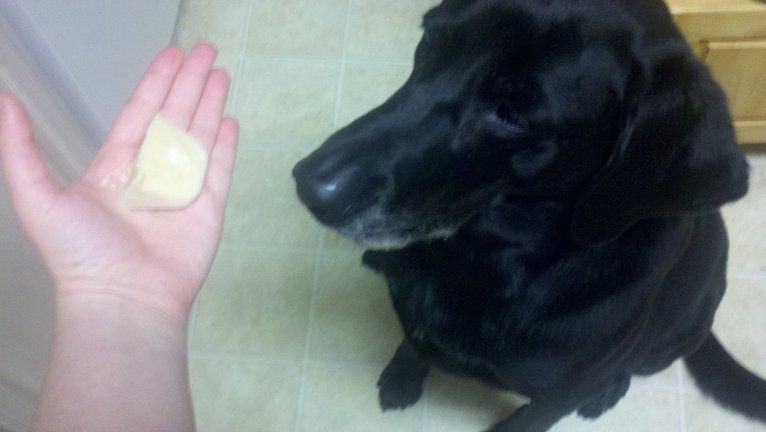 What's that? Smells like peanuts.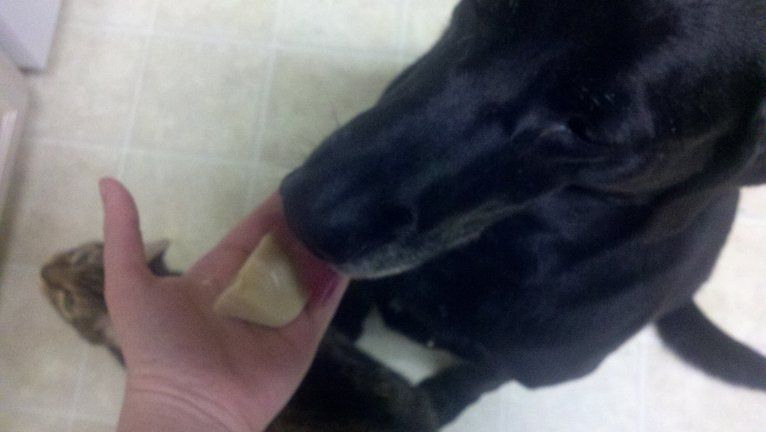 Lick, lick. Yum!
He loves them! The only issue is the cubes I made (about two ounces or two cubic inches) were rather too small for Ebon as he wanted to chew rather than lick them. For a dog Ebon's size, I would suggest an
ice pop mold
or perhaps used, cleaned pudding cups for a cheaper option (really, anything about six ounces would do). I'm considering options to deal with this small size. I'll probably end up thawing a bit on one and then freezing it to another or something of the sort. I just don't want Ebon trying to swallow them whole.