It's been a little while since I last took Ebon on an adventure. There is a bit of a reason for that. During
our last adventure
, Ebon picked up a tick that I pulled off right when we got home. Unfortunately, the bite became infected. I treated the wound and spent some time watching him and making sure he was okay, as well as keeping the bite clean and dry. It's the first time he's ever had an infection, so I was probably more than a bit overly concerned about it spreading. Oh, well, safety first. It's nothing more than a scar now.
This past weekend I went downtown with my significant other and took Ebon along. We had a lot of fun, though Ebon got a bit bratty about wanting to go meet another Labrador that came into one of the stores we went to. I used the moment to remind him of some training I've done in the past: over-excitement means we go away, calmness means he can go say hi. The store where I bought Ebon's pack is dog friendly, which is great--especially since they have fresh water always available just outside the front door. We also went by my favorite ice cream parlor, which always proves to be an amazing treat, and, much to my surprise, Ebon was given a small treat for free. Also, we even walked all the way down to the river.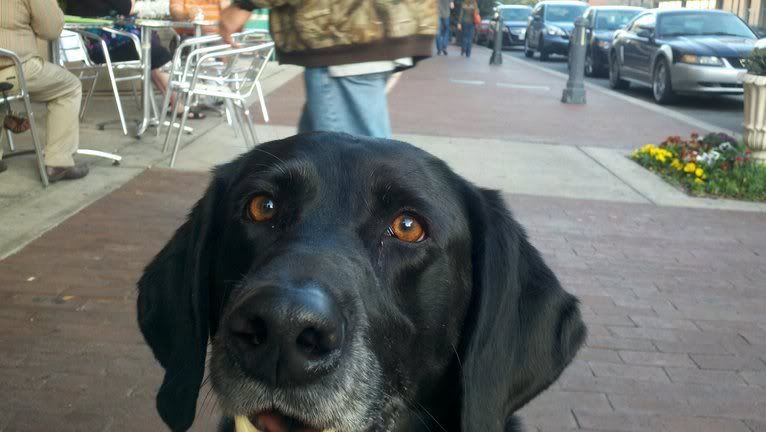 Ebon being good outside of the ice cream parlor. Here he's actually watching me eat my ice cream, which he didn't get any of. This business has been around since before 1920!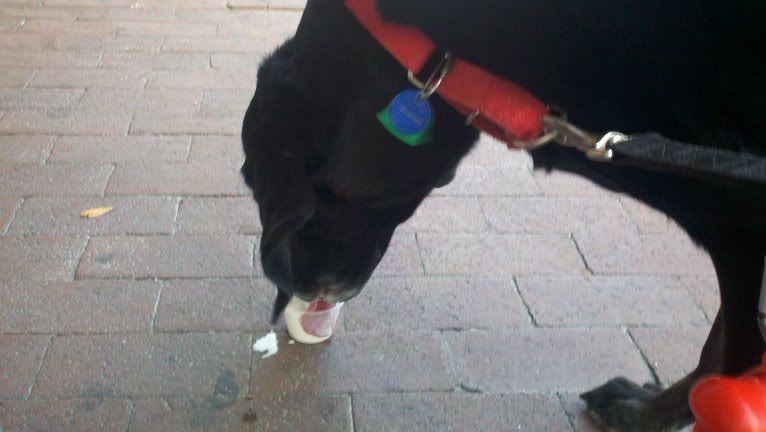 Ebon enjoying his treat: very watered down ice cream.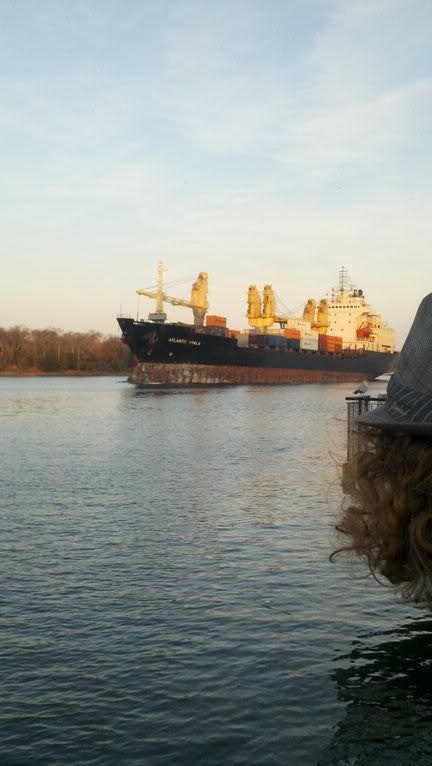 Watching a ship bring cargo up the river
Today Ebon and I did some running around. I finally got the engraved tag with Ebon's microchip number on it that I've been meaning to get for ages. I also stopped by another local groomer and pet boutique and bought some chewies, which I plan to discuss soon. The owner was very nice and helpful, far more so than the person working at the groomer where I
recently bought some food
. Also, the boutique has a far greater variety of dog foods, many of which can't be found anywhere else locally. At least that's true from what I've seen so far. There's also an amazing variety of treats and chews, as well as the fancy non-food things you would expect to find in a boutique. After that, we went to the park that's actually an
old rice farm
. We were only able to do a section of the trail there since the light was failing, but we did have some fun wandering around the more developed parts of the park. There are several big festivals held there, and a large pavilion and small stage have both been built to house such events.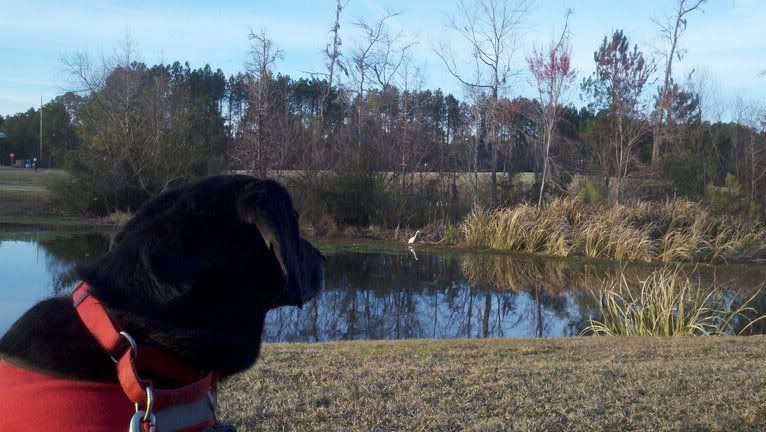 Near the beginning of the trail. If you look closely you can see a great egret on the other side of the pond.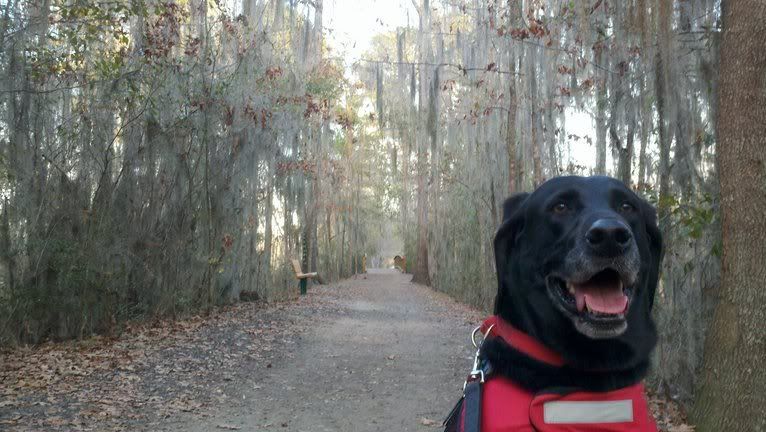 On the trail, showing the massive quantities of Spanish moss as well as a bench and bridge in the distance.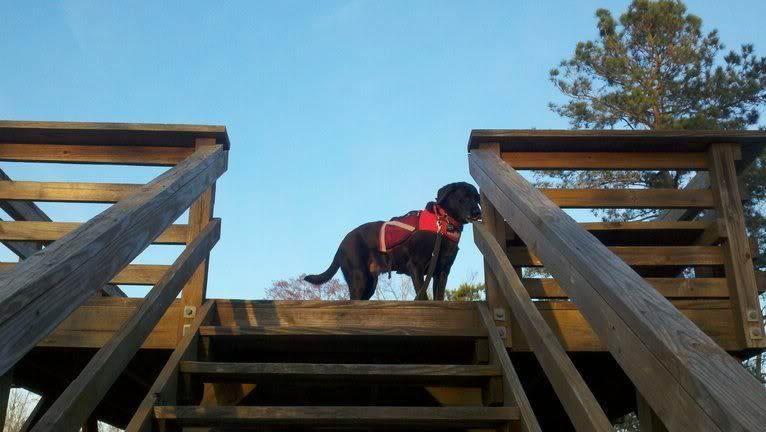 I had Ebon climb to the top of the observation tower on his own.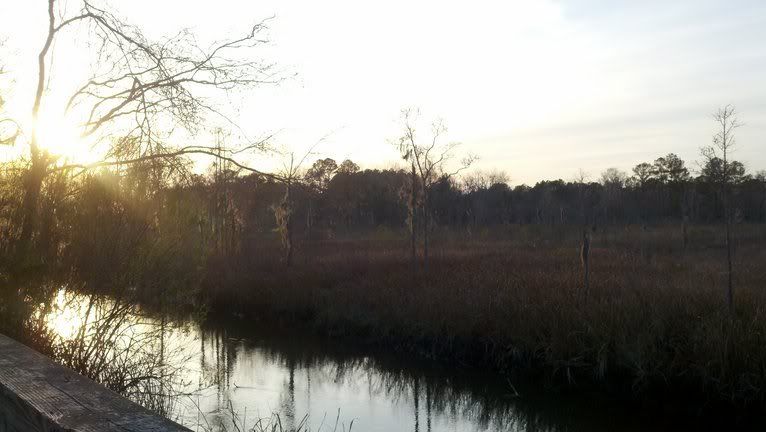 A view of the former rice fields, now gone to tidal marsh, from the observation tower. This spot's great for birding.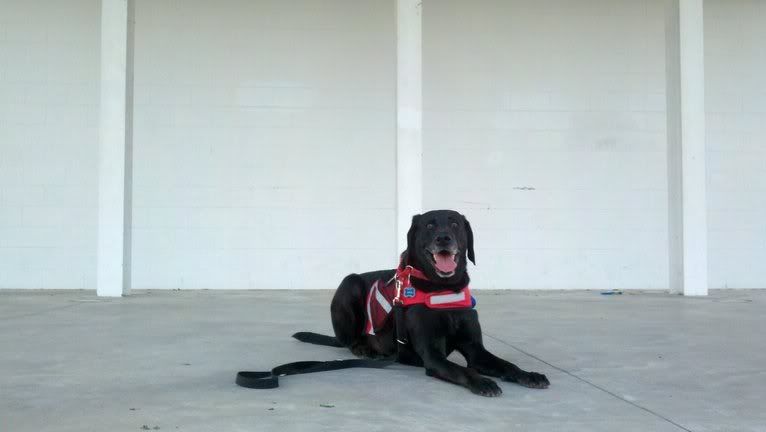 Ebon in a down-stay on the stage. We ran for a while after this, including more stairs and some jumping off and onto the stage, a height of about two feet.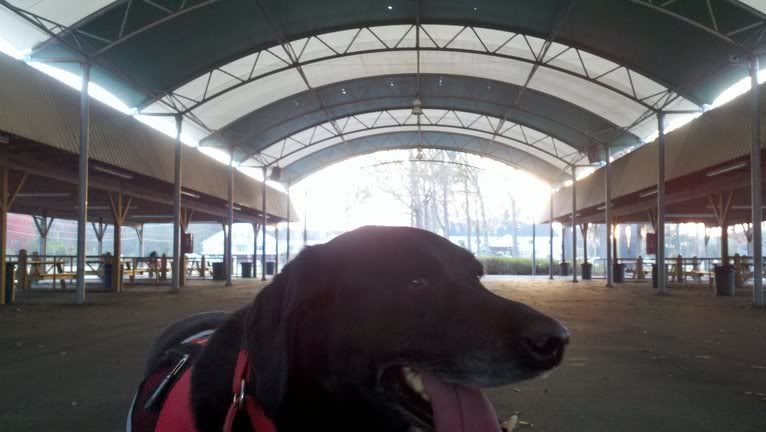 In the middle of the pavilion. When I was in high school, the band performed several concerts in this very pavilion. It's divided into a bunch of stalls for the festivals, most of which will sell food of some sort. Alligator meat is sometimes to be found. This was after the running around, which is why Ebon is panting harder.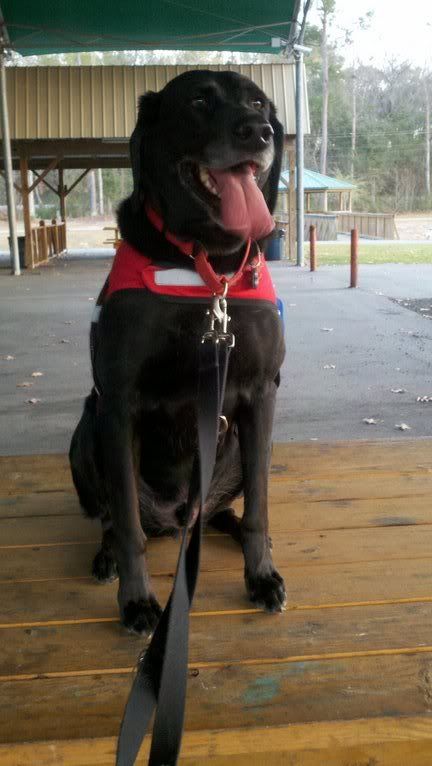 Ebon on one of the many picnic tables. I'm a bit amused that his tongue blurred in this one.