I've decided, after finding a local supplier of some of the foods that I thought impossible to find within a hundred-mile radius, to do some dog food reviewing. Today I bought five bags of higher quality foods in the ten to fifteen pound range so that I can do some testing. The nearly seventy pounds of food you see below should last Ebon less than two and a half months.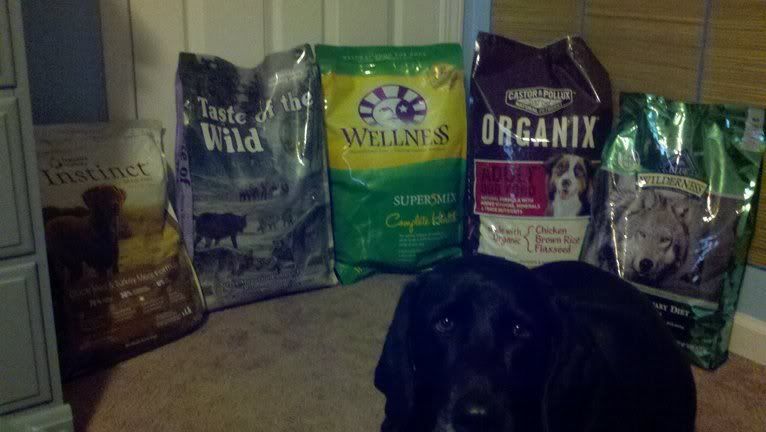 Ebon with the food, ordered by the "best if used by" dates. The foods that will expire soonest are to the left, latest to the right. The two on the left were bought at a local groomer who also sells several other hard-to-find brands, the three to the right were bought at my local Petsmart, whose high-quality food section is rather small.
So, I chose the bag sizes that I did due to Ebon's size. He currently eats about a pound of food a day, so a good two week (give or take) time frame should be enough time to give me a good idea of how he tolerates the food and whether there are any perceived positive or negative results. The brands I will be reviewing are as follows:
Nature's Variety Instinct
I purchased a 13.2 pound bag of the Duck Meal & Turkey Meal Formula, but there are numerous other "flavors" available. The instinct line is completely grain-free. My favorite dog food review site gives it a
five out of five stars
. The company also offers
frozen and freeze dried raw foods
, as well as
foods that contain grains
. Their kibble lines have accompanying canned foods. All of the foods the Nature's Variety company produces are at least four stars.
Taste of the Wild
I purchased a 15 pound bag of the Sierra Mountain Canine Formula with Roasted Lamb. Taste of the Wild has quite a line of foods, all of which are grain-free and rated at
five stars
. This is one of the foods that dog people keep trying to have me feed my dog. However, as
I have mentioned before
, my opinions on dog food are a bit different from other dog people. The company also offeres canned foods, which, interestingly enough, are
more poorly rated
than the kibbles at four stars. For the most part, brands that offer kibble and cans will have canned food that is on-par or better than the kibble.
Wellness Super5Mix
I purchased a 15 pound bag of the Complete Health Lamb, Barley & Salmon Meal Recipe. The Super5Mix line of foods are rated
four stars
. Wellness produces several different lines of food, canned and dry, with a fairly wide variety of qualities, everything from
three
to
five
stars. In fact, as is sometimes the case, some of the kibbles on the Super5Mix line (such as the senior recipe) are of lower quality, being only three stars. This bag was the cheapest one I bought of the five.
Castor & Pollux Organix
I purchased a 14.5 pound bag of the Adult Canine Formula, which has chicken as the main protein source. This brand is also
five stars
. Castor & Pollux also produces several lines of food, all of which are at least four stars. Like Taste of the Wild, the canned foods in the Organix line are not as well rated as the kibbles, being
four stars
. Also, the grain-free foods are not as well rated as the Organix foods with grains, being only
four and a half stars
, which I found especially amusing since so many dog people insist on only feeding grain free.
Blue Buffalo Wilderness
I purchased an 11 pound bag of the Duck Formula. Wilderness is another grain free food, and is
five stars
. Blue Buffalo again has several different lines of food, with ratings from
three and a half
to five stars, with only one set of canned foods being below four stars. The rest of the lines have canned foods on-par with the kibbles, as well as some independent canned lines. Ebon has been fed from their Life Protection line before, but has never had any of the Wilderness.
Ebon has been on the same kibble (the
four-star
Simply Nourish Lamb & Oatmeal
) for the last three or four months. I still have over half a bag of that, which I will be using as a kind of pause between trials. I will also mix them if he reacts to the high protein in some of the foods, as my dad's greyhound Siggy did when fed Wilderness. Ebon has never had a grain free food before, so this should be interesting. As for serving size for these foods, I will be calculating what to feed for each brand and include that in the individual reviews. It's likely that, since many of these foods are more calorie-packed, I will be feeding less than Ebon usually gets to prevent him from gaining weight. I will also be tracking some of the normal things that dog owners worry about, such as energy, teeth, breath, coat, and poop.
I am starting the testing tonight with the Nature's Variety Instinct since it's expiration date is only a few months away, while the Blue Buffalo Wilderness is good for over a year.
EDIT: Forgot to add this. I'm going to be using Simply Nourish as a baseline, so I should give the all-important information about it.
Simple Nourish Lamb & Oatmeal Formula
This food is AAFCO approved for adult maintenance.
Bag's recommended daily feeding instructions for a large dog 51-90 lbs: 3 1/2 - 5 3/4 cups
Crude Protein: minimum of 24.0%
Crude Fat: minimum of 13.0%
Crude Fiber: maximum of 5.0%
Moisture: maximum of 10.0%
Calorie content: 3,565 kcal/kg
Calculated feeding amount
to maintain Ebon's ideal weight (82.5 lbs): 0.47 kg (1.034 lbs)
Price per pound when buying the largest bag (30 lbs at $45.99): $1.533
Estimated cost of feeding Ebon per year on this food: $578.57 (12.58 of the 30 lb bags)
Ebon receives slightly less than the calculated feeding amount to allow for his daily treats
Ebon's overall health on this food: Very good. His coat is very shiny, poop compact and consistent unless stressed, teeth fairly good, breath only slightly offensive, energy level moderate to high.
Simply Nourish is the only kibble that I have mentioned above that does not have the kcal/cup amount listed on the bag, which makes it more difficult to determine the correct feeding amount. For this food, Ebon's calculated recommended daily allotment of 1.034 pounds comes out to about four cups. So, my best guess at this food's kcal/cup is 419. However, this number is likely to be a bit off. I intend to do all of my future calculations in kcal/cup.