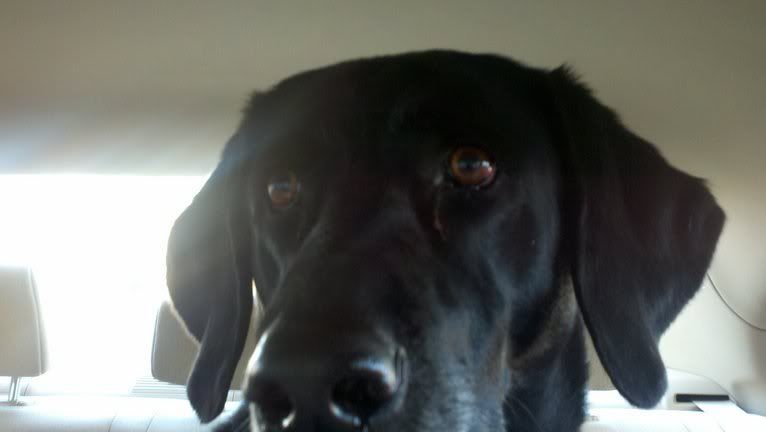 Ebon in the car right outside the vet
Dropped Ebon off at the vet at 8:00 am. Since he wasn't allowed to eat last night or this morning the poor fellow was acting very confused about being without. Still don't know whether the tooth will stay or not, but I'll be finding out what the vet thinks is the best decision soon.
EDIT: The tooth has been pulled.
EDIT #2: Ebon seems to be doing well. His teeth are beautiful and the socked from the pulled tooth looks good (If you're curious and don't mind a little blood,
here's a picture
). However, I discovered upon arrival home that some time during the eight hours Ebon spent at the vet today his leg was injured rather badly. Best as one of the vets can determine (not the one who actually worked on Ebon, mind you), he moved while still under sedation and scraped his leg against the concrete floor of the recovery area. The wounds don't look chewed and the skin seems to me to have been pulled off (again, same as above,
here's a picture
, and
another
). What really steams me up is the fact that the people working there failed to notice the injuries and likely resultant bloody mess. I understand that he had a tooth pulled and they bleed, but ugh.
My brother was kind enough to sacrifice a sock at help me clean and bandage the wounds. I was a bit thorough in making sure that he wouldn't lick or chew the spots, so there is ointmented gauze taped to his leg, covered by a sock and finally wrapped in an ace bandage. He's currently sleeping.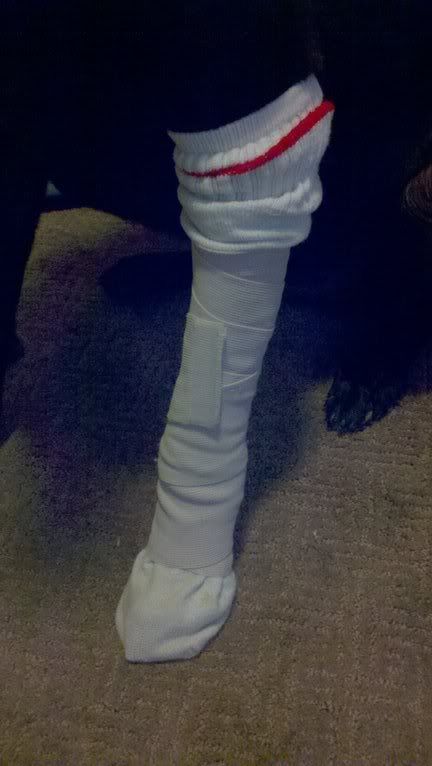 Ebon's makeshift bandage.